PORT ST. LUCIE, Fla.
FIRST PITCH: The Mets get their first glimpse of the Atlanta Braves this afternoon as Tim Hudson and crew visit Tradition Field.
Jeremy Hefner, who might be the rotation alternative if Johan Santana cannot get ready for the start of the season, pitches for the Mets, along with Rafael Montero and Bobby Parnell.
Monday's news reports:
• Santana was displeased with all the attention he received Sunday, a day after Sandy Alderson said he the southpaw did not come into camp in pitching shape and suggested it might be 10 days before Santana stepped onto a mound. Perhaps driven by the negative attention, pitching coach Dan Warthen suggested, Santana threw off a mound Sunday for the first time since Feb. 19. Catcher Anthony Recker set up in front of the plate to cut the distance during the light session.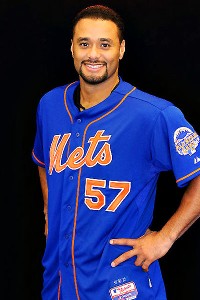 Courtesy of New York Mets
Johan Santana was not a happy camper Sunday.
"What's spring training for?" an agitated Santana asked reporters. "What's practice? To get you better. That's what I'm doing right now. That's what I'm here for, and that's what I'm going to do. That's what I'm working on."
Columnist Joel Sherman in the Post isn't impressed with how the Mets handled the Santana issue. Writes Sherman:
All in all, this was another Amway moment for the Mets. There was nothing technically wrong with how either party behaved -- like there is nothing technically wrong with partnering with a company that has been accused of being a pyramid scheme. It just looks terrible when this organization is trying to regain credibility that it is trustworthy and knows what it is doing.
Here were the Mets claiming to have both monitored Santana this offseason -- which Alderson said they did -- and being shocked he did so little work he was not ready to pitch at the outset.
Read more in the Record, Newsday, Post, Daily News, Star-Ledger and MLB.com.
• Kirk Nieuwenhuis suffered a left-knee injury stealing second Sunday. Read more in the Daily News and MLB.com.
• Dillon Gee tossed three scoreless innings in his first appearance against major leaguers since undergoing surgery at last year's All-Star break and John Buck produced a three-run homer against his former club, but the Mets lost to the Marlins, 6-4, Sunday in Jupiter, Fla. Read more in the Star-Ledger, Post, Newsday and MLB.com.
• Warthen told Mike Kerwick in the Record he hopes to have Zack Wheeler (oblique) back on a mound midweek and in a game in about seven days.
• David Lennon in Newsday notes Mike Piazza did himself little favor with his autobiography if he hoped to be honored by the Mets. Writes Lennon:
The committee for the franchise's own Hall of Fame has yet to meet on any of this year's candidates, including Piazza, but the Mets weren't thrilled by some of the catcher's comments about the club in "Long Shot." COO Jeff Wilpon, who has the last word on both the Hall of Fame's recommendations and the retired numbers, was criticized in the book as Piazza claimed Wilpon urged him to play with an injury in a spring-training game because it was a sellout. Piazza also ripped longtime media relations director Jay Horwitz, who happens to be a member of the Mets' HOF committee, for not doing a better job of shielding the team's players.
"I felt he was more loyal to the writers and the broadcasters than he was to the players," Piazza wrote.
Are a few stinging sentences enough for one of the Mets' most popular stars of the past two decades to be alienated? That depends. Piazza also declined an invitation to attend SNY's unveiling of the team's 50 greatest players last year (he was No. 6) and team officials buzzed about that dis for months. There is little -- if any -- communication these days between Piazza and the Mets, who are confused as to why he's pulled away to this degree.
• Mets bullpen coach Ricky Bones has left camp to serve as the pitching coach for Puerto Rico in the World Baseball Classic.
• Ken Belson in the Times takes a look at the team's Mr. Met hats. Belson writes that teams are permitted to wear these new spring-training caps during regular-season games as well, although the Mets would not say if they planned to do so.
• Third base used to be a revolving door for the Mets. But since mid-2004, and presumably now for another eight seasons, it will belong to David Wright. So Jared Diamond in the Journal asked players who also man that position in camp what it feels like to be boxed out. The Mets are playing Wilmer Flores at second base, not third base, in Grapefruit League games -- although the in-season plan apparently remains for Flores to be used at both spots. Writes Diamond:
Since 2005, only one player has appeared in more games at any position for one team than Wright's 1,184 at third with the Mets: Yankees second baseman Robinson Cano (1,197). And while Cano's impending free agency makes his future with the Yankees murky, Wright will likely be a Met for life. … That leaves any third baseman in the Mets system with two options: pray for a trade that may never come -- or find a new position.
"I can't be David Wright. I'm not trying to be David Wright," said Zach Lutz, who has played 269 minor-league games at third base over the past six seasons.
• Jeff Wilpon told Jon Heyman at CBSSports.com he is rooting for Jason Bay to succeed in Seattle. The Mets still owe Bay $21 million this year, but they deferred $15 million of that sum.
"I wish Jason nothing but the best," Wilpon said. "He was a great teammate. He did everything he could. He put in a lot of work, and he was always at his locker. He's a stand-up guy. It just didn't work out. It was best for him and for us to part ways. If he was a jerk, maybe I'd feel differently. But he's a great person. I'll root for Jason Bay 100 times out of 100 times."
• From the bloggers … The Eddie Kranepool Society suggests the Mets need Santana ready in July, at the trade deadline, not on Opening Day. … Mike V's Countdown to Opening Day at Mets Police stops off at 1998. It marked the first regular-season game played in New York City in March.
BIRTHDAYS: Jack Fisher, who lost 24 games for the '65 Mets despite a 3.94 ERA, was born in 1939.
TWEET OF THE DAY:
best game ever tonight at 205 came after the real games were over! @givemethelefty was the ringer stepping in 4 David's team #notcountingit

— Justin Turner (@redturn2) March 4, 2013
YOU'RE UP: Who would you like to see step into the rotation if Johan Santana were not ready and Zack Wheeler was placed at Triple-A Las Vegas -- Jeremy Hefner, Jenrry Mejia, Collin McHugh or Aaron Laffey?