JUPITER, Fla. -- Less than a week after being cleared to resume baseball activities while wearing a heart monitor, Pedro Feliciano made his first Mets game appearance since 2010 on a back field at the Marlins' spring-training complex Tuesday.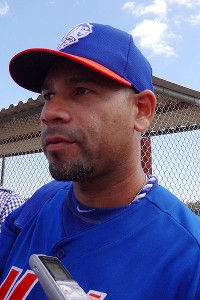 Adam Rubin
Pedro Feliciano speaks after pitching in Tuesday's "B" game.
He surrendered a leadoff homer to righty-hitting Ben Lasater and hit a batter in one inning in the "B" game while registering 82-83 mph with his fastball, but was pleased with the effort and simply returning to a mound in game action. Of the five batters Feliciano faced, only one batted lefty: Derek Dietrich, whom Feliciano plunked with a pitch.
"It was better than what I expected," Feliciano said.
Feliciano has been diagnosed with a genetic heart condition known as left ventricular noncompaction, but doctors apparently are satisfied pitching poses no additional risk. During a two-week period, he has a heart monitor in his back pocket and EKG-type wires attached to his chest.
"It's nothing at all," Feliciano said.
Feliciano, bidding to join Josh Edgin as a second lefty in the bullpen, next expects to pitch Thursday.
"He hasn't pitched in quite a while. He was down for two weeks," Terry Collins said. "I was really looking today to make sure he got out there and there was no discomfort or anything. He threw some good changeups. He threw some good sliders. It's a matter of making sure he gets out there on a consistent basis right now to build up his arm strength."