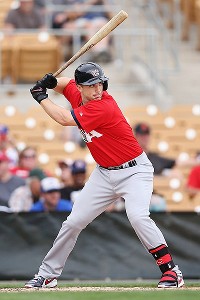 Christian Petersen/Getty Images
David Wright bats during Tuesday's exhibition game against the White Sox.
PORT ST. LUCIE, Fla. -- David Wright went 1-for-2 with an RBI, walk and strikeout as Team USA tied the Chicago White Sox, 4-4, in a World Baseball Classic tune-up in Glendale, Ariz.
Wright delivered a sixth-inning triple against former Mets farmhand Matt Lindstrom to plate Ryan Braun and get Team USA on the scoreboard after the Americans fell behind by four runs.
He started at third base and played five innings in the field.