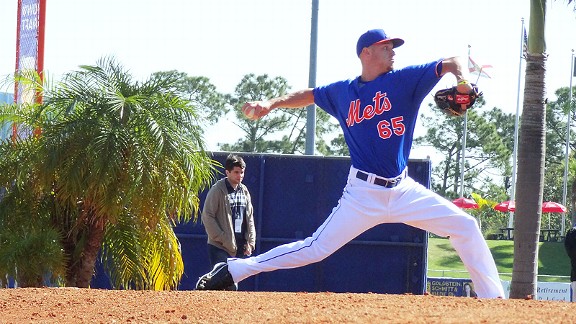 Adam Rubin
Zack Wheeler was dispatched to minor league camp Sunday, on the day he faced batters after an oblique injury.
PORT ST. LUCIE, Fla.
FIRST PITCH: The Mets make their second 2½-hour drive to Lakeland, Fla., in four days. This time, they get to face Justin Verlander, who mowed down all nine Mets he faced at Tradition Field on March 1.
Jonathon Niese starts for the Mets. Also due to pitch: Aaron Laffey, Greg Burke, Scott Rice and Pedro Feliciano.
Meanwhile, Mookie Wilson has arrived at Port St. Lucie and will be at the Mets complex beginning today.
Monday's news reports:
• The Mets dispatched Zack Wheeler to minor league camp along with nine other players. Later in the day, Wheeler threw batting practice -- his first time facing hitters since straining his right oblique on Feb. 27. Also optioned to the minors: left-hander Darin Gorski, right-handers Gonzalez Germen, Collin McHugh, Elvin Ramirez and Hansel Robles, infielders Reese Havens and Wilfredo Tovar, and outfielders Juan Lagares and Cesar Puello. Read more in the Times, Star-Ledger, Newsday, Daily News, Record, Post and MLB.com.
• David Wright hit .455 with three walks and five RBIs in three first-round games and Team USA advanced in the World Baseball Classic with a 9-4 win against Canada on Sunday at Chase Field. Wright scored three times in the clincher. Team USA next plays Puerto Rico on Tuesday at 8 p.m. in Miami.
"It would have been a long trip to go back to St. Lucie and answer questions from my own teammates on why we couldn't get the job done," Wright said. "At least we made it out of this round, and plan on making it out of the next round."
Read more in the Post, Daily News, Times and Newsday.
• Shaun Marcum tossed 3 2/3 scoreless innings and Jordany Valdespin had a go-ahead RBI single in the eighth as the Mets beat the Cardinals, 3-0. Read more in the Record, Star-Ledger and MLB.com.
• Valdespin is securing a spot on the Opening Day roster. Read more in the Post.
• Frank Francisco threw off a mound for the first time since developing elbow inflammation upon arriving at camp. Read more in the Times.
• Johan Santana appears destined for the disabled list to open the season, but Sandy Alderson will not proclaim that yet. "His condition will dictate his schedule," Alderson told reporters. "At this point, I'm not going to concern myself with any sort of emotional response. It's all about, 'Let's get him ready.'" Read more in Newsday, the Post and Daily News.
• Bill Parcells attended Sunday's Mets-Cardinals game and was presented with an autographed Mets jersey to recognize his selection to the Pro Football Hall of Fame.
• Tyler Kepner in the Times visits Mariners camp, where Jason Bay is trying to resurrect his career, as Oliver Perez has done in Seattle. The Mets still owe Bay $21 million, although they deferred $15 million of that sum as part of a buyout. Writes Kepner regarding Bay, whose offseason home is in Seattle:
[GM Jack] Zduriencik said the Mariners hoped to add offense and leadership in the offseason without sacrificing young talent. They accomplished that, he said, by acquiring Kendrys Morales, Michael Morse and the former Yankee Raul Ibanez. But the first move was a modest deal for Bay, who is guaranteed $500,000, an amount that doubles if he makes the opening day roster. Bay, Zduriencik and their wives had dinner before he signed.
"It made a lot of sense for him to try to make a go of it where he's living," Zduriencik said. "He can drive his kids to school in the morning and then play baseball. I walked away thinking, 'What a good guy, what a genuine person.'"
• From the bloggers … At Mets Police, Mike V's Countdown to Opening Day stops at 1999, when the Mets slogan asked, "Are You Ready?"
BIRTHDAYS: Jeremy Hefner turns 27.
TWEET OF THE DAY:
Patriotism aside, watching David Wrights high five Shane Victorino makes my stomach turn #WBC #Mets

— Joey Matt (@DroopyJoey) March 10, 2013
YOU'RE UP: Given the state of the Mets' outfield, should they have kept Jason Bay, since they're paying him anyway?