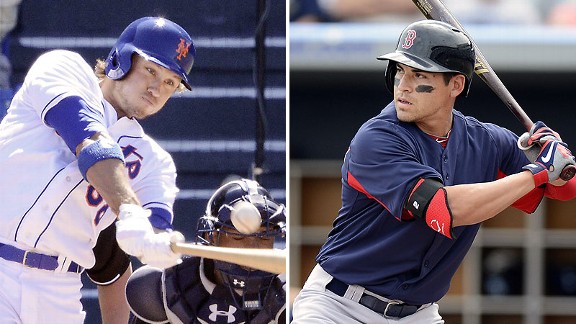 USA TODAY Sports/Associated Press
Outfield coach Tom Goodwin favorably compares Matt den Dekker's glove to Jacoby Ellsbury's defensive prowess.
LAKELAND, Fla. -- Matt den Dekker made another Amazin' catch Monday. This time he earned a comparison to Jacoby Ellsbury from outfield coach Tom Goodwin.
Den Dekker, already featured four times on SportsCenter's top-10 plays even though he has yet to reach the majors, raced onto the track in left-center in the fifth inning to take away an extra-base hit from Austin Jackson.
The 25-year-old prospect stayed on his feet this time. Earlier this spring training, he reached over the wall to take away a homer from Washington's Anthony Rendon. Then, two days ago, he slid on the track in left-center to rob Houston's Trevor Crowe.
"From the first day I saw him, he's reminded me of Ellsbury -- their body types and the way they can go get the ball," Goodwin said. "I think he has stronger arm than Jacoby has, but both of them can run. He's a difference-maker out there in center field."
Said Jonathon Niese, the beneficiary of Monday's grab: "Oh, it was amazing. He plays a great outfield. It's great to have that defense behind you. It's really important. Obviously he saves a lot of pitchers a lot of runs with those kinds of catches. Not too many people in the game can make those kinds of catches. It's real important to have guys like that."
So why isn't den Dekker a serious consideration for the Opening Day roster?
That would be his bat.
The lefty-hitting, lefty-throwing den Dekker did produce a two-run single through the right side of the infield in the seventh against left-hander Phil Coke, but he struck out twice earlier in the game against Justin Verlander, including once after getting ahead in the count, 3-0, with a runner at third base. Den Dekker has K'd 10 times in 27 Grapefruit League at-bats.
Last season, he hit .220 with 90 strikeouts in 295 at-bats at Triple-A Buffalo after tearing up Binghamton during the first half of 2012.
"He's working on some things," Terry Collins said. "He's really trying to be a little more selective at the plate.
"The one situation today where he had the guy at third and less than two outs and he got 3-0 on the best pitcher in the game, you've got to be ready to attack. You can't let him get back in the count like he did. But he's trying to get something he can handle.
"Later in the game that was a good swing he put on the lefty, so he's making huge progress.
"Defensively, I'm not sure we've got anybody better."
If you scrutinize Collins' words, you can see confirmation that den Dekker is all but assured of opening the season patrolling center for Triple-A Las Vegas.
"Everybody talks about platooning," Collins said. "If you're going to be a platoon player, you've got to be able to do something off the bench in the National League -- and that's not just play defense."