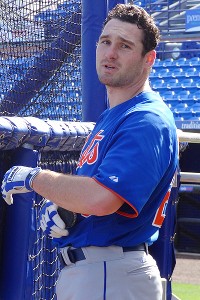 Adam Rubin
Daniel Murphy prepares to take batting practice Wednesday in Port St. Lucie.
VIERA, Fla. -- Terry Collins said he expected Daniel Murphy to get into a game this weekend for the first time during spring training, although it will be on the minor league side.
Murphy is returning from a strained intercostal muscle on his right side. He went through a busy day Wednesday at the team's complex in Port St. Lucie, Fla., that included taking grounders and batting practice.
• Kirk Nieuwenhuis, who has been working out indoors, is now aiming to get on the field to begin baseball activities Thursday. Nieuwenhuis did a comprehensive workout inside today as he works back from a bone bruise on his left knee, which he suffered sliding into second base 10 days ago.
• Jordany Valdespin, who was struck in the groin with a fastball Monday, is penciled into the starting lineup Thursday and Friday, according to the manager. Collins said he gave Valdespin off from Wednesday's trip because he wanted to get Brian Bixler a start at second base.