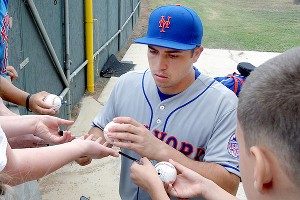 Adam Rubin
The Mets would be assuming risk if they keep Travis d'Arnaud in major league camp beyond Friday.
VIERA, Fla. -- Travis D'Arnaud went 0-for-3 Wednesday against the Washington Nationals, but he still is hitting .261 in Grapefruit League play.
His days in camp may be numbered, though.
The Mets, like other major league teams, must ship out prospects on the 40-man roster by Friday if they want to minimize the risk to the organization.
Generally, if 40-man-roster players remaining in major league camp become injured within 15 days of Opening Day, they earn major league service time and pay and have to land on the disabled list to open the season until they heal.
So players such as d'Arnaud and Wilmer Flores, who are on the 40-man roster but not likely to make the Opening Day roster, should be dispatched to minor league camp by Friday.
That doesn't mean the Mets will be fully tipping their hand as to which players they plan to take north.
If a player merits more consideration and is on the bubble, such as sidearm reliever Greg Burke, he should stick around even though the the Mets would be on the hook for DL time and pay if he were to get injured late in camp.