PORT ST. LUCIE, Fla. -- Dillon Gee surrendered six runs on three hits, four walks, two hit batters and three wild pitches and the Mets lost to the Detroit Tigers, 9-1, Thursday at Tradition Field.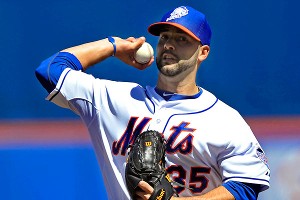 Brad Barr/USA TODAY Sports
Dillon Gee had no control Thursday against the Tigers.
"That's very uncharacteristic what you saw today," Terry Collins said. "I asked [pitching coach] Dan [Warthen] if he was trying to work on something in particular. Dan just said he's having a real tough time finding his release point. It's something that's easily fixed. There's no injury issues or anything else. I mean, I've watched this guy pitch for four years and I've never seen that before. I'm not too concerned about it."
Game tidbits:
• Josh Edgin allowed the other three runs (two earned), in 1 2/3 innings in relief.
• The lone Mets run came in the second inning against Doug Fister, when Mike Baxter walked and Zach Lutz and Anthony Recker consecutively singled.
• Submariner Greg Burke tossed 1 1/3 scoreless innings and left-handers Pedro Feliciano, Scott Rice and Robert Carson each tossed scoreless frames.
"It'll be interesting to see as we go further into camp where he can finally get to as far as building up some velocity, his breaking ball," Collins said about Feliciano. "... We'll keep running him out there maybe every other day now since it looks like he's OK.
"Greg Burke has just done a nice job. He's got that strange delivery that I think distracts the hitter a little bit. As I've said before, when he gets over the ball and gets that sink on it, he gets groundballs. He's got a whole history of it -- 3-to-1 groundball-to-fly-ball ratio, which is very, very good. If you're getting groundballs, you've got a chance to get some outs."
Collins went on to say that one impediment to Feliciano making the club would be if Mets officials determined they cannot afford to carry a pitcher who only faces one batter. That would be the case if starting pitching is not going to produce enough innings.
• Matt den Dekker was struck on the right forearm with a throw while sliding into second base breaking up a double-play attempt. Den Dekker iced the forearm postgame but indicated he was fine.