PORT ST. LUCIE, Fla. -- Shaun Marcum allowed two runs on five hits and one walk in four innings as the Mets lost to the Miami Marlins, 4-2, Saturday at Tradition Field.
"The mechanics are starting to feel a lot better," Marcum said. "I feel like I'm starting to repeat them a lot more. Other than that, now it's just starting to mix in some more pitches. I threw some cutters today."
Marcum said the cutter is a "huge" pitch for him.
"I don't throw awful hard, so I have got to be able to locate that pitch and have my two-seamer to go along with that -- try to play that crisscross game where I'm cutting it in and sinking it away and stuff like that," Marcum said. "So it's very important for me."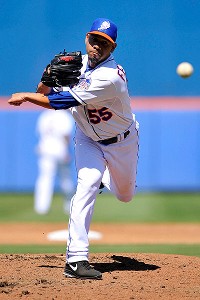 Brad Barr/USA TODAY Sports
Pedro Feliciano worked an inning-plus Saturday.
Game tidbits:
KEEP THE FAITH: Terry Collins had not yet received the X-ray results on Justin Turner's sprained right ankle postgame, but the manager also believed it was not severe. Collins said Zach Lutz will start at third base Sunday against the Atlanta Braves.
"I don't think Justin is very serious the way it sounded," Collins said. "It is what it is. You can't get discouraged. You can't get down. … If you let it get you down, all of a sudden it spreads to the players. They get frustrated.
"Hey, look, it's spring training. We've still got 15 games to go. We've got to go play. You've got to get yourself ready, let the trainers do their thing, let the doctors do their thing. And then we've got to get the players ready that are remaining here. When we get to the end of spring training, we'll decide which 25 are physically able to go north."
PERPETUAL CHALLENGE: Lefty specialist Pedro Feliciano, whose velocity is still hovering in the 83 mph range, nonetheless tossed a 1-2-3 sixth inning with two strikeouts -- against lefty-hitting Chris Coghlan and righty-hitting Donovan Solano.
Feliciano stayed on for the following frame and surrendered a leadoff double to lefty Casey Kotchman before departing. Greg Burke inherited Kotchman and allowed him to score.
OVERTIME FACEOFF: Jeurys Familia departed in the ninth with his pitch count at 45 after a 17-pitch faceoff against Chone Figgins that ended with a walk. Familia walked three and allowed two hits during a 1 1/3-inning appearance. He surrendered a solo homer to Marlins top prospect Christian Yelich.
TWIN KILLING: Right-hander Dylan Owen, borrowed from minor league camp, completed the top of the ninth after Familia exited. Owen coaxed a double-play grounder from Nick Green, the lone batter he faced. Owen, 26, went 4-9 with a 6.28 ERA in 28 appearances (10 starts) with Triple-A Buffalo last season.