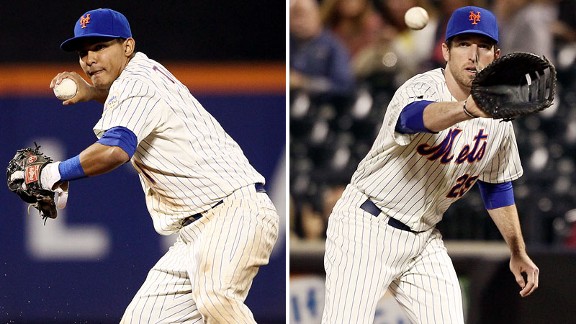 Getty Images
The Mets are looking for defensive improvement from Ruben Tejada and Ike Davis.Mets third base and infield coach Tim Teufel is a willing partaker when it comes to studying advanced defensive stats in conjunction with video analysis and spray charts.
He can quote things like UZR rankings, range ratings and double-play success rate.
"I embrace them," Teufel said. "Any time we can use measurements to help us in our coaching, I'm willing to look at it. I felt like (last year's stats were) very accurate. It had some credibility with me."
With that in mind, we asked: What can we expect from the Mets on the defensive side in 2013?
Here's a look both with advanced stats and Teufel's assessment.
First Base
In addition to expecting Ike Davis to get back to where he was offensively before his ankle injury, the Mets expect him to get back to where he was defensively too.
By statistical measures, Davis was a very good glove in his debut season of 2010 (12 Defensive Runs Saved), but a below-average one in 2012 (-3 Runs Saved)
Ike Davis- 2010 vs 2012
Davis declined in effectiveness (relative to his peers) at fielding balls hit in the first base-second base hole, and at turning balls hit into the most common spots where a first baseman fields them into outs.
Davis also had less success converting the 3-6-3 double-play.
In 2010, Davis turned double plays on 11-of-16 instances in which he fielded a ground ball with a man on first and less than two outs. Since then he's only converted at a 7-for-21 rate, including 7-of-16 last season.
Teufel's assessment: "Ike's going to be a lot better this year. He's moving around great. He's going to his glove side really well. Last year that was a weakness. I think (the ankle) affected his range and his quickness. It limited his ability to push off (and get to that ball). He has good hands, a soft glove. We've shortened his stroke on throwing to convert the 3-6-3 a little better. I think that will work."
Second Base
When you look at Daniel Murphy's advanced defensive stats, you have to remember that much of the damage to them came in the season's first two months.
Murphy ranked tied for fifth-worst among second basemen last season with -11 Defensive Runs Saved.
His Revised Zone Rating (a measure of how often you turn batted balls into outs against balls that are turned into outs the majority of the time) ranked sixth-worst among the 29 players who played at least 500 innings at the position.
Fangraphs charts "Out of Zone" plays -- the number of balls turned into outs by a defender in areas in which your peers turned balls into outs 50 percent of the time or worse. Murphy's rate of making Out of Zone plays rated worse on a per-inning basis than any of those 29 players noted above.
Murphy made 21 Out of Zone plays last season. By comparison Cardinals second baseman Daniel Descalso, who rated average defensively last season, made 31 ... in 500 fewer innings.
But the good news is that there were improvements over the last four months of the season.
Murphy was on pace for -25 Defensive Runs Saved after about six weeks, but finished at -11. There were a few improvements that contributed to that.
Murphy converted only 24 of his first 49 chances to turn a double play as either pivot or relay man. He converted 41 of his last 57 (72 percent), which would rank above the major-league average of 65 percent.
Teufel's assessment: "From June on, he was an average to above average second baseman. We want him to increase his range to his glove side. He's very good on his backhand. And he played in the shift really well. I don't think he'll go through the growing pains he went through last year. He looks a lot more comfortable."
Shortstop
Ruben Tejada does a lot more things that help more than hurt on the defensive side, though that doesn't necessarily translate though advanced defensive stats.
Tejada was defensively average last season (relative to his positional peers) with zero runs saved.
Tejada's Good Fielding Plays
Most Common (2012 Season)
Though he turns balls into outs when they're hit up the middle at a rate above major-league average, what has hurt Tejada is that he doesn't do as well against balls hit into the shortstop-third base hole. His -9 rating against those balls ranked sixth-worst in the majors last season.
But the potential is there for Tejada to be very good.
Baseball Info Solutions does video tracking of games, crediting players for different types of Good Fielding Plays (GFPs) and penalizing them for Defensive Misplays and Errors (DM&E).
Tejada made 52 GFPs last season and had 27 DM&E. His 2-to-1 rate was second-best in the majors among shortstops (those who played at least 500 innings)
Teufel's assessment: "Ruben is still working his way into game shape (for a shortstop). It's a demanding position. Positioning is key with him because he's not as gifted range wise as some other shortstops. We're working on getting him to understand hitters, the mental part of the game, things like what guys do in RBI situations and with two strikes."
Third Base
We spent a lot of time praising Wright's defensive work here and looking ahead here.
Do the stats show any area in which he can get better?
Most Defensive Runs Saved
3B in 2012
Yes. In every season of Wright's career, he has ranked below average, against balls hit down the third-base line (ie: would-be doubles).
Teufel's assessment: "I actually felt like his backhand was one of the best in the league last season. I think the numbers may be because we overplay some hitters, so we shade him off the line a little bit. We've worked with him in the past on his throwing technique, but I think he's got that wired right now."
"David is a step ahead of the other guys, but remember he's got eight years at third base and all our other (infielders) have two years. He makes pretty good adjustments."