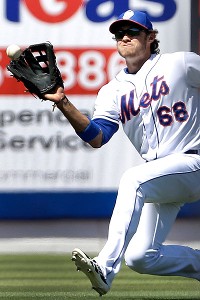 Jeff Roberson/Associated Press
Matt den Dekker has made dazzling catches, but now has an injured right wrist.
PORT ST. LUCIE, Fla. -- Matt den Dekker, who has produced a series of highlight-reel catches already this spring training, suffered a right wrist injury attempting to catch a shot to deep center from Austin Jackson in the seventh inning Sunday.
Den Dekker tried to brace his fall with his right hand and injured the wrist. He was being sent for X-rays Sunday afternoon.
"He nicked it up pretty good," Terry Collins said. "I'm pretty concerned about it. Hopefully it's nothing serious and he doesn't miss a lot of time. He's played great. He really has had a great spring defensively. He's been fun to watch."
Den Dekker's latest highlight reel addition was a second-inning catch Sunday in right-center, when he raced into the gap to rob Victor Martinez.
Like with Kirk Nieuwenhuis, den Dekker's aggressiveness in center may lead to injuries.
"And you don't ever want him changing," Collins said. "I was fortunate to watch Jim Edmonds in Anaheim make diving catch after diving catch. And I heard a player tell him one time: 'If you want to stay healthy, stop diving.' I said: 'The minute you stop diving you'll be an average player.' And the same with Matt den Dekker. He's that kind of a player where he's fearless. And that's what makes him a great center fielder."