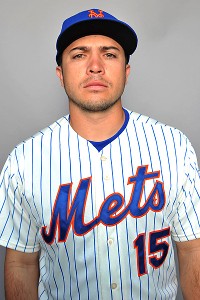 Steve Mitchell/USA TODAY Sports
Travis d'Arnaud
PORT ST. LUCIE, Fla. -- Top catching prospect Travis d'Arnaud has been optioned to minor league camp.
D'Arnaud hit .343 with four RBIs in 35 Grapefruit League at-bats.
"He played very well," Sandy Alderson said. "He met all of our expectations, which I think for the organization and Mets fans were fairly high. He did a very nice job. We're hopeful he'll have a long career in New York. But we're happy with what John Buck has done. We've got an investment in him as well. I think our pitching staff and team overall will benefit overall from John Buck's presence, and ultimately Travis is going to be a very good player for us."
If d'Arnaud spends the first 20 days of the season in the minors, the Mets can delay his free agency from after 2018 season until after the 2019 season.
The Mets can delay d'Arnaud's first year of arbitration eligibility by a year if they ensure he is roughly not one of the top 22 percent of rookies called up this season. One major league executive estimated a call-up after June 15 probably would allow d'Arnaud to miss the "Super Two" designation. The same logic applies to Zack Wheeler.
"As I said, we've got a big investment in John Buck, too," Alderson said when asked about "Super Two" being a motivating factor with d'Arnaud. "I know people talk about control and 'Super Two' and all of that. If John Buck gets hurt tomorrow, Travis d'Arnaud is the front-line catcher."