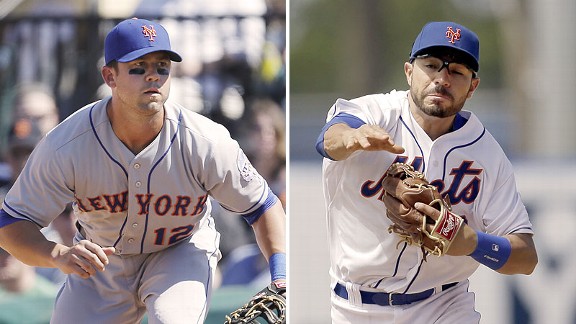 Carlos Osorio/Associated Press
With Brandon Hicks outrighted, Omar Quintanilla essentially has won the backup shortstop job.
PORT ST. LUCIE, Fla. -- Brandon Hicks has been outrighted by the Mets.
Left unsaid but resulting from the decision: Omar Quintanilla has won the backup shortstop job and will replace Hicks on the 40-man roster.
Hicks hit .116 and committed four errors.
Also sent to minor league camp Sunday: Aaron Laffey, Andrew Brown, Brian Bixler and Jamie Hoffmann.
Laffey will serve as a starter with Triple-A Las Vegas, potentially making him the next call-up should another rotation vacancy arise. His departure from big league camp signals the Mets are confident Shaun Marcum will be OK. Marcum missed a start and received a cortisone shot in his pitching shoulder, but is slated to resume pitching in a game Thursday.