PORT ST. LUCIE, Fla.
FIRST PITCH: Precisely one week from Opening Day, the Mets make a trip to Disney to face the Atlanta Braves at 1:05 p.m.
Dillon Gee, who has allowed 11 earned runs on 10 hits and five walks in six innings over his past two Grapefruit League starts, opposes left-hander Mike Minor.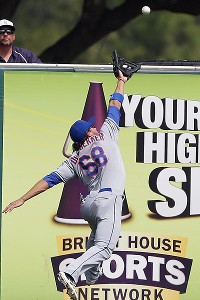 Carlos Osorio/Associated Press
Matt den Dekker's electrifying catches are on hold now that he has a broken right wrist.
Monday's news reports:
• Matt den Dekker's highlight-reel-filled spring training ended with a broken right wrist, which he suffered trying to brace himself in deep center on an attempted catch of a shot by Detroit's Austin Jackson. Den Dekker will head to New York today, where team doctors will evaluate if surgery will be required. Read more in the Post, Star-Ledger, Times, Newsday and MLB.com.
• Travis d'Arnaud was sent to minor league camp after hitting .343 in Grapefruit League play. If the Mets want to delay his arbitration eligibility by a year, they likely would have to wait until late June to promote d'Arnaud. Also headed to minor league camp: Brandon Hicks, who was outrighted off the 40-man roster, as well as Aaron Laffey, Andrew Brown, Brian Bixler and Jamie Hoffmann.
Hicks' departure signals Omar Quintanilla will be Ruben Tejada's backup at shortstop. And the departures of Hicks and Bixler seem to signal that Zach Lutz briefly would open the season with the club if Daniel Murphy were to land on the disabled list.
The Mets now have 36 in major league camp, although that includes players not ready to perform, such as Johan Santana (shoulder), Frank Francisco (elbow), Jenrry Mejia (forearm), Tim Byrdak (shoulder), David Wright (side), Murphy (side) and den Dekker.
Read more on the roster cuts in the Star-Ledger, Post, Newsday, Times and Record.
• Murphy went 1-for-2 with a walk and manned second base for five innings in a minor league game Sunday. That marked his first time seeing game pitching this spring training. Wright took live batting practice for the first time since being scratched from the World Baseball Classic game against the Dominican Republic. Wright still has some lingering inflammation on his left side, where he suffered an intercostal muscle strain.
"Mentally it's somewhat of a hurdle to get over, not knowing how it's going to feel when you swing," Wright told reporters about seeing the batting-practice pitching.
Terry Collins noted that a DL stint to open the season, if it were to occur, should be brief for either player. Because DL time can be backdated nine days into spring training, Murphy or Wright could miss as little as the first six days/five games of the season.
Read more in the Daily News, Star-Ledger, Newsday, Times, Post, Record, Journal and MLB.com.
• Lutz homered and had three RBIs and Laffey was roughed up four runs in three innings as the Mets won a split-squad game in Jupiter, 10-7, against the Cardinals. Back in Port St. Lucie, Matt Harvey surrendered four runs in five innings and Brandon Lyon surrendered five runs while recording only one out as the Mets lost to the Tigers, 9-4. Read more in the Daily News and MLB.com.
• Columnist Joel Sherman in the Post predicts five outfielders who could become available via trade in the next nine months: Andre Ethier, Carlos Gonzalez, Giancarlo Stanton, Chase Headley and Josh Willingham.
• Kirk Nieuwenhuis discusses with Jorge Castillo in the Star-Ledger a disappointing spring training that included suffering a bone bruise on his left knee. Nieuwenhuis now is expected to open the season with Triple-A Las Vegas.
• Brian Costa in the Journal profiles Mets PR man Jay Horwitz's propensity for pocket-dialing current and former Mets. "When I got back to my locker, I checked my phone and the missed call was from 8:10 p.m.," Ike Davis told Costa. "I'm like, why would he call me at that time? I'm at first base. He sees me at first base."
• There's an unflattering profile of Lenny Dykstra in the Post.
• From the bloggers … At Mets Police, Mike V's Countdown to Opening Day stops at 2003. Tom Glavine took over as ace, David Cone was back and 53,586 showed up at Shea to "Experience It!"
BIRTHDAYS: Tom Glavine isn't devastated to be turning 47. …. Lee Mazzilli turns 58.
TWEET OF THE DAY:
@adamrubinespn Adam, what are the chances we see the return of Moises alou this year in a met uniform?

— Steve Watt (@a1000watts) March 24, 2013
YOU'RE UP: Should the Mets have had Travis d'Arnaud start the season in the majors, even if it means him becoming eligible for free agency after the 2018 season instead of after the 2019 season?