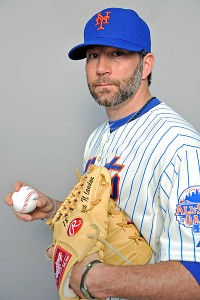 Steve Mitchell/USA TODAY Sports
Shaun Marcum reportedly had a neck issue Monday.
PORT ST. LUCIE, Fla. -- Shaun Marcum's status for the beginning of the season reportedly is now murky.
The Mets had expected Marcum to reenter the Grapefruit League rotation Thursday in a final tune-up for Game 2 of the regular season. But Marcum experienced neck discomfort during a bullpen session back at the team's complex Monday, according to the Daily News.
Aaron Laffey, who was supposed to be the fallback, looked poor in an outing Sunday in Jupiter, Fla., against the St. Louis Cardinals and Jenrry Mejia is dealing with forearm tendinitis. So, internally, Collin McHugh or Cory Mazzoni might be the best answer if Marcum is unable to pitch, unless the Mets dare want to have Zack Wheeler open the season with the ballclub.
Externally, Chris Young is opting out of his contract with the Washington Nationals.
Marcum had received a cortisone shot last Tuesday for what was described as a shoulder impingement.