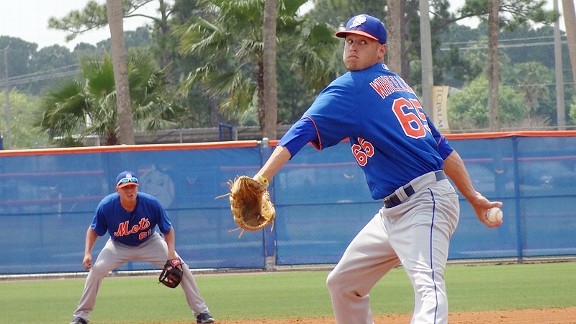 Adam Rubin
Zack Wheeler is not a consideration for the rotation to open the season.
PORT ST. LUCIE, Fla. -- Even with potentially gaping holes in the Mets' rotation, Zack Wheeler is not a consideration to break camp with the team.
Terry Collins said Wheeler needs more development time at Triple-A Las Vegas. There's also the unsaid matter that if Wheeler opens the season with the team and never departs, he would be eligible for free agency after the 2018 season instead of after the 2019 season.
Collins said there is a parallel between Matt Harvey last season and Wheeler now in that both heralded prospects will be promoted when they are ready, not rushed because of need.
"There's a reason why we sent him out," Collins said about Wheeler. "He needs to go to Triple-A. He needs to face hitters in Triple-A. Believe me, we will take into consideration where he's pitching. There's no question. He's going to pitch in Vegas, where a routine fly ball is going to go off the fence. I'm very aware of that. But he needs to go work on his stuff, and he needs to be able to do what he did toward midseason [in 2012], and that is pound the strike zone. Thus far, in the games he's thrown over there, they said he's been a little wild."
Collins was overseeing the Mets' minor league system when Jenrry Mejia was rushed into the major league bullpen because of need in 2010 as Omar Minaya and Jerry Manuel had tenuous job statuses.
"That was my first year, and I didn't know anybody," Collins recalled. "I had never seen the kid throw a baseball. As a matter of fact, that whole camp I never saw him throw a baseball because he made the [major league] club. I just heard the other guys talk. Yeah, it would be a similar situation, for sure."