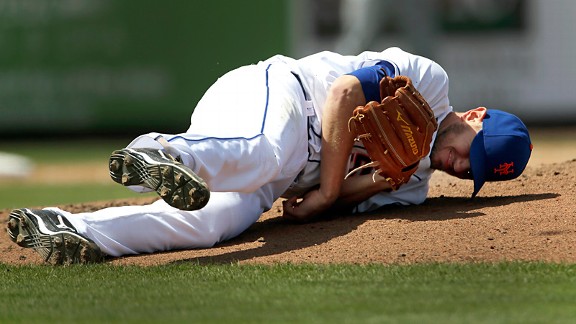 Jeff Roberson/Associated Press
Jeremy Hefner hits the ground after being struck in the right elbow with a fourth-inning comebacker Tuesday.
PORT ST. LUCIE, Fla.
FIRST PITCH: Under the Tradition Field lights tonight, Jonathon Niese gets his final tune-up for the April 1 opener against the San Diego Padres.
Niese, who likely will be restricted to 50 or so pitches, faces Houston Astros right-hander Edgar Gonzalez in the 6:05 p.m. game.
Wednesday's news reports: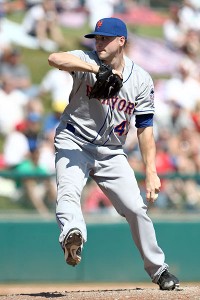 Douglas Jones/USA TODAY Sports
Aaron Laffey is expected to sub for Shaun Marcum in the rotation.
• Aaron Laffey is poised to be the Mets' fifth starter, with Shaun Marcum expected to open the season on the disabled list with a shoulder and now a neck issue. Zack Wheeler is not a consideration and will head to Triple-A Las Vegas to open the season, Terry Collins said.
The Mets are unlikely to pursue a starting pitcher from outside the organization -- Chris Young or otherwise -- a team insider told ESPNNewYork.com. Sandy Alderson did watch Young's final start with the Washington Nationals on Monday night, before Young officially opted out, according to Newsday.
Read more in the Star-Ledger, Journal, Times, Daily News, Post and Newsday.
• Jeremy Hefner was struck on the right elbow by a sharp one-hop comebacker off the bat of Carlos Beltran, but X-rays were negative.
• In his first game since the World Baseball Classic on March 12, David Wright went 1-for-5 in a pair of minor league games while DHing. He plans to again play in a minor league game Thursday. Read more in the Star-Ledger, Newsday, Daily News, Post and MLB.com.
• Anthony DiComo at MLB.com speaks with Alderson.
"My goal, ultimately, is for a lot of Mets fans to be happy with where we are -- not where we're going, but where we are," Alderson told DiComo. "… Are there things I would have done differently? Absolutely. In this business, you have to keep in mind that you're not going to be right every time. But you have to be right often enough so that the team is successful. We haven't been right often enough. …
"Many fans are not conditioned to think long term, and you would expect that to be especially true in New York. I don't know if this is a majority or a minority, but I've actually found from day to day that a lot of people have bought into what we're doing. That does not mean that the average Mets fan has unlimited patience. But my sense is that they have some understanding, at least, of what we're trying to do."
• Pedro Feliciano, after failing to make the Opening Day roster, has decided to remain with the Mets organization. Read more in the Times and Post.
• In need of roster spots, the Mets have alerted other teams they will trade non-core prospects currently on their 40-man roster. The Mets' 40-man roster stands at 39 since Brandon Hicks was removed. The Mets are expected to need to add Scott Atchison, Marlon Byrd, LaTroy Hawkins, Laffey and Omar Quintanilla.
• Third base coach Tim Teufel's son Shawn, a left-handed pitcher, has signed a minor league deal with the Mets.
• After Hefner's departure from Tuesday's game, Mets farmhands imploded on the mound and the Cardinals beat the Mets, 11-4, at Tradition Field. Lucas Duda homered during a 3-for-4, four-RBI day. A pocket of Mets fans chanted "Overrated" at Yadier Molina. The Cards catcher responded by belting a two-run homer against minor leaguer Randy Fontanez, who faced seven batters and failed to record an out.
On the overrated chant that preceded Molina's homer, Cardinals manager Mike Matheny told Derrick Goold of the St. Louis Post-Dispatch: "The pitch before I said, 'They're just making him mad enough that he's going to hit a homer.' I said, 'He may give them a gesture when he crosses home plate.' I didn't say what gesture. He was going to acknowledge them. He handled it with much more class than I did, because I looked up there (at the fans chanting). I love that stuff. There are certain guys that you bring the best out in them when you try stuff like that. I saw that one coming."
• Duda and hitting coach Dave Hudgens met halfway in their spring-training adjustments to his swing, Marc Carig writes in Newsday.
• The Mets will offer a free ticket to you on your birthday this season. Just show a valid form of ID (birth certificate, driver's license, passport, etc.) at a Citi Field ticket window on your birthday, provided it is a home-game day (subject to availability). Birthdays falling on the April 1 opener, May 27-28 Subway Series and games after Sept. 29 are not eligible. If your birthday falls on those dates, during the winter or when the Mets play a road game, you are eligible for a free birthday ticket April 3-4, April 23-25 or Sept. 13-15.
• Matt den Dekker will need to wear a cast on his fractured right wrist for six weeks.
• Jenrry Mejia was examined in New York and diagnosed with forearm tendinitis. He will be idle for two weeks.
• From the bloggers … Shannon from Mets Police is going to miss writing about Dave Howard. … The Eddie Kranepool Society also weighs in on Howard's move from Mets executive VP to MSG Sports chief. … Rising Apple has a preview of the 1973 season, as if the season had yet to be played. … John Delcos at Mets Report also talks '73.
BIRTHDAYS: Matt Harvey turns 24. … 2011 first-round pick Brandon Nimmo turns 20.
TWEET OF THE DAY:
Welcome to the world Turner Dewitt!! 7lbs 10oz and 21 1/4 inches long!

— Josh Edgin (@joshedgin37) March 27, 2013
YOU'RE UP: Are the Mets making the right call with Aaron Laffey poised to plug Shaun Marcum's spot in the rotation?