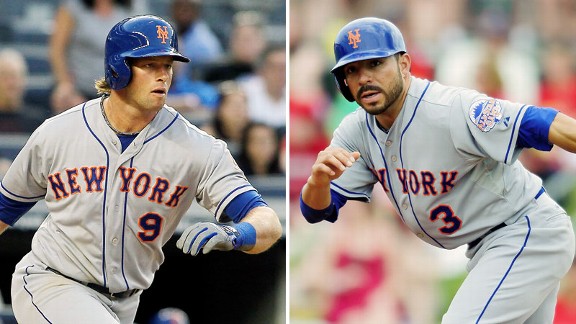 Getty Images/USA TODAY Sports
Kirk Nieuwenhuis may unseat Omar Quintanilla for an Opening Day roster spot.
PORT ST. LUCIE, Fla. -- Concerned about their defensive capability in center field, the Mets are mulling carrying Kirk Nieuwenhuis on the Opening Day roster over a bona fide backup shortstop.
It had seemed apparent Omar Quintanilla would make the roster as Ruben Tejada's backup when Brandon Hicks was outrighted. And that may still happen, especially since Quintanilla has performed well during spring training.
However, there is a camp advocating carrying Nieuwenhuis instead. Nieuwenhuis was off to a 1-for-18 start when he suffered a bone bruise on his left knee. Nieuwenhuis returned for action Saturday. He is hitting only 2-for-26 overall in Grapefruit League play (.077).
Carrying Nieuwenhuis over Quintanilla would mean Jordany Valdespin or Justin Turner would have to enter at shortstop if Tejada had to leave a game or needed a day off. Terry Collins has been extremely reluctant to use either at that position.
It also would alleviate the need to open an extra 40-man roster spot, since Nieuwenhuis is on the 40-man roster and Quintanilla is not.