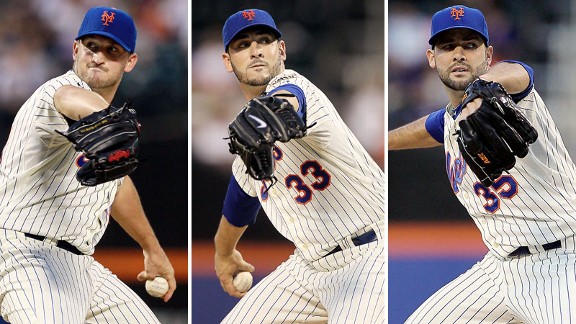 Getty Images
The Mets' opening series rotation is Jon Niese, Matt Harvey and Dillon Gee.
PORT ST. LUCIE, Fla. -- The Mets have committed to a rotation order for the season-opening homestand against the San Diego Padres and Miami Marlins.
The verdict:
Vs. Padres
Monday: LHP Jonathon Niese vs. RHP Edinson Volquez
Wednesday: RHP Matt Harvey vs. LHP Clayton Richard
Thursday: RHP Dillon Gee vs. LHP Eric Stults
Vs. Marlins
Friday: RHP Jeremy Hefner vs. RHP Henderson Alvarez
Saturday: Niese vs. RHP Kevin Slowey
Sunday: RHP Shaun Marcum vs. RHP Ricky Nolasco
That presumes Marcum is healthy for that start.