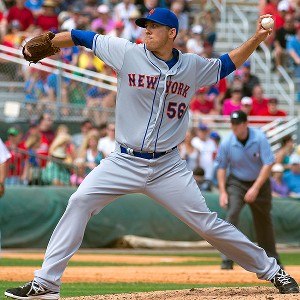 Scott Rovak/USA TODAY Sports
Scott Rice is poised to make his major league debut.
SARASOTA, Fla. -- In his 15th professional season, 31-year-old Scott Rice is poised to make his major league debut during the upcoming week.
Rice, who played independent ball in 2008 with the Long Island Ducks and the following year with the Newark Bears, beat out Robert Carson to serve as a second lefty, alongside Josh Edgin, in the bullpen.
Collins said it was a no-brainer to put Rice on the roster -- even though it required making 40-man roster room -- because the southpaw is a "groundball machine."
The closest Rice previously came to making a major league roster? That would have been last year with the Los Angeles Dodgers, when he traveled from Arizona to L.A. with the team and then was cut at Dodger Stadium.
"Everyone was loading on the bus to go to San Diego," Rice said. "I was left standing with my bags. I know the feeling."
That's why Rice said he could empathize with Carson. Rice consoled his fellow lefty reliever in the clubhouse in Port St. Lucie before Carson was left behind.
"I basically just let him know, look, I've been in his situation so many times," Rice said. "I know exactly how he feels. I just wanted to let him know that it sucks it had to be between the two of us. He's a good pitcher. He's going to be up here soon."
Rice had a strong sense before entering Collins' office that he had made the team because Carson had received his news first.
"After I pitched I heard that Robert got called in the office," Rice said. "I knew without the manager it usually it isn't a good thing. So I had a pretty good feeling once I got done pitching yesterday which way it was going to go. I've been through it before. I've been sent down 100 times. I know exactly the process for that."
Rice, a supplemental first-round pick of the Baltimore Orioles back in 1999 out of high school, said he never contemplated giving up during his career.
"This is what I've always wanted to do, so I was never really deterred from it," Rice said.