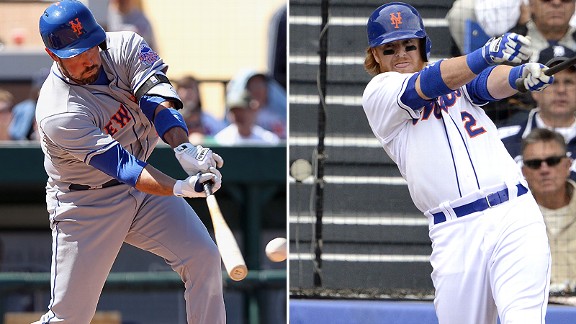 USA TODAY Sports
Zach Lutz's Opening Day roster fate depends upon whether the Mets place Justin Turner on the disabled list.
SARASOTA, Fla. -- The Mets will wait until Sunday to decide whether Justin Turner lands on the disabled list with a strained left calf.
Zach Lutz will make the Opening Day roster if Turner is placed on the DL.
Both players were traveling with the team to New York on Saturday afternoon.
"We need to have Justin Turner work out tomorrow," Terry Collins said. "He's going to come in and see the trainers anyway. And then we'll make a decision after he goes through the workout."
Turner suffered the injury Wednesday in a Grapefruit League game. He figured it might have resulted from compensating for a sprained right ankle he previously suffered. The Mets could backdate the injury four days into spring training, so Turner would be eligible to return April 12 from a DL stint, for a series opener at Minnesota.
With the Mets deciding not to carry Omar Quintanilla, Collins said Turner would be the primary backup at shortstop -- completing a game if Ruben Tejada became injured or subbing ever so occasionally if Tejada was given a day off. However, if Tejada was going to miss time, the Mets would dip to Triple-A Las Vegas, likely for Quintanilla.