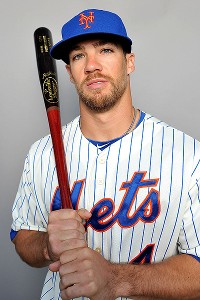 Steve Mitchell/US Presswire
Collin Cowgill will be the regular center fielder.
Terry Collins said he selected Collin Cowgill for the leadoff spot in part because of the pop in his bat.
"It can be 1-0 in a hurry," said Collins, while acknowledging Jordany Valdespin also has that potential.
The righty-hitting Cowgill has been tabbed as the everyday center fielder for now.
Collins noted righty hitters actually are effective against San Diego Padres right-hander Edinson Volquez anyway, because they take away his changeup. In fact, righties hit .240 with 10 homers in 375 at-bats against Volquez last season, while lefties hit .230 with four homers in 304 at-bats.
Cowgill, whose father drove 12 hours from Kentucky to be at Citi Field, will start on Opening Day for the first time in his three-year major league career.
"You always hope that's the case," Cowgill said about being a full-time player, after having part-time roles with the Arizona Diamondbacks and Oakland Athletics. "Obviously it's very satisfying at this point. I've still got a lot of work to do. Just because I have the job now doesn't mean I get it for the whole year. So I've got to play hard and play well and help this team win. And that's what I'm going to do."
Said Collins: "The first couple of weeks is when we find out if these guys are everyday players."