PHILADELPHIA -- Terry Collins briefly mulled using Lucas Duda at first base on Tuesday night, once he determined Ike Davis would be given the day off against left-hander Cliff Lee.
Collins ultimately decided to leave Duda in left field.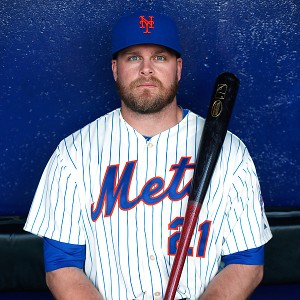 Chris Trotmanamee/Getty Images
Terry Collins decided to keep Lucas Duda in left field rather than use him at first base.
The manager's reasoning: If Duda played first base, then Justin Turner would either need to play second base or sit. And Collins wanted Turner and Daniel Murphy in the lineup against Lee. In Turner's case, it wasn't his career numbers against Lee (0-for-10), but a motivation to keep him sharp by periodically starting him against southpaws.
Collins said it probably will help Duda anyway to stay in a consistent position, even if left field is not overly comfortable for him. Collins recalled how excited Duda got when he was placed at first base in a Grapefruit League game.
"The one game in spring training when we said, 'Do you care if you play first base?' he was all excited," Collins said. "Well, I don't want him to get that excited, because he's going to be the left fielder. We've got a first baseman here."
As for Davis' struggles, which include a 4-for-27 start to the season, Collins said he did not want to give away a scouting report to opponents. Still, it seems fairly straightforward that Davis is so far from the plate he cannot handle pitches on the outer corner. Collins did note that Davis is not going to the opposite field, which is what he did when he had so much spring-training success.
"The other day they made three pitches on him -- really tough pitches on the outside corner," Collins said.