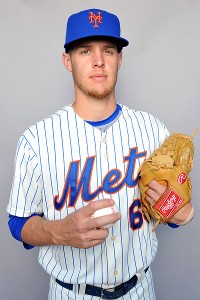 Steve Mitchell/USA TODAY Sports
Zack Wheeler has been dealing with a blister.PHILADELPHIA -- Zack Wheeler, who has struggled with control during his first two starts with Las Vegas, had been dealing with a blister issue on his right middle finger.
The blister issue annually occurs with Wheeler, dating to his time with the San Francisco Giants, and affects his offspeed pitches.
Wheeler is OK now and not expected to miss any starts. He did undergo an MRI between his first two Pacific Coast League starts to check out the issue.
Wheeler is 0-1 with a 3.12 ERA in two starts. He has allowed 11 hits and six walks in 8 2/3 innings.
The Post first reported the Mets sending Wheeler for an MRI.