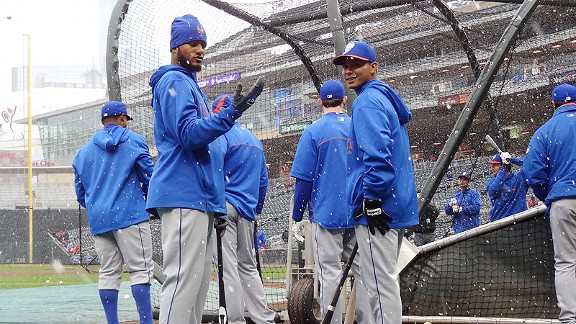 Adam Rubin
Jordany Valdespin and Ruben Tejada take batting practice in the snow at Target Field on Friday night.
MINNEAPOLIS -- Less than two hours before the first pitch of their series opener against the Twins, as the Mets began outdoor pregame warm-ups, flurries had turned to snowfall at Target Field.
"It's what it is," Terry Collins had just finished saying inside his manager's office. "It's April. We're in Minnesota. It's cold."
What's the limit? Collins said this weekend's temperatures in Minnesota -- in the low 30s -- may not be at the limit. But the ensuing Mets series in Denver may cross the threshold of what is bearable.
"Next Wednesday, right now, it's presumed that it's going to be a high of 24, low of 17," Collins said. "That's cold. That might be too cold. ... I grew up in Michigan. I played a lot of cold baseball games. I'm not sure I ever played when it was 17."
Collins said his biggest fear is not injury.
"That the game becomes ugly, more than anything," he said. "I haven't seen a lot of guys get really hurt in cold weather. But you've got to be able to grip the baseball. If it gets so bad where you can't hold onto the ball, now the game is affected. The entire integrity of the game is affected. Tonight I don't think it's going to be that bad."
Friday night starter Jonathon Niese (Ohio) and Saturday starter Matt Harvey (Connecticut) grew up in cold climates. Sunday starter Dillon Gee grew up in Texas, and his circulation issue could be affected in frigid temperatures. At least Sunday is a day game and temperatures will be a little more modest.
"When it's his turn to pitch, it will be a little bit better than it is tonight," Collins said. "I'm not that concerned."
Collins also believes David Wright and Daniel Murphy are far enough removed from side-muscle injuries to not be putting themselves at increased risk.
As for whether games like tonight should have been moved to the daytime, Collins acknowledged that probably wasn't practical.
"You start to talk about TV and all the other stuff involved," Collins said. "What would be nice for us probably doesn't go with the business side of things. So you just adjust and adapt. That's what we'll do."