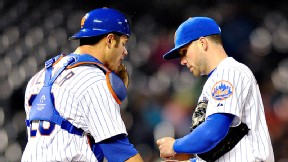 Jack Dempsey/Associated Press
Aaron Laffey's pitch count was capped Tuesday in part so he can pitch on short rest Saturday against Washington.
DENVER -- Terry Collins confirmed after Tuesday's doubleheader sweep that he pulled Aaron Laffey from the nightcap after four innings and 77 pitches in order to allow the left-hander to come back on short rest Saturday against the Washington Nationals at Citi Field.
Having a pitcher come back on short rest is required because of Monday's postponement. Laffey was charged with two earned runs on four hits and three walks in four innings.
Josh Edgin inherited a six-run lead in what became a 9-8, 10-inning loss.
"We wanted to keep him at 75 pitches anyway," Collins said. "We were hoping he could get through five. But he was at that point."
Said Laffey: "We're in a doubleheader. We've got guys that had already threw out of the pen in that first game. Just from having experience in the pen as well, you always want your starter to go as deep as you can, especially in those types of games -- doubleheader days. More for me, I wish I could have gone back out there to save a couple of guys in the pen.
"They came over to me after the fourth and let me know I'd be coming back on short rest and we're going to stop it there. You know, with the exception of a couple of walks today, I was pretty pleased with the outing."
Matt Harvey is lined up to face Stephen Strasburg in Friday's series opener at Citi Field, followed by Laffey and Gio Gonzalez on Saturday, and Dillon Gee and Jordan Zimmermann on Sunday.