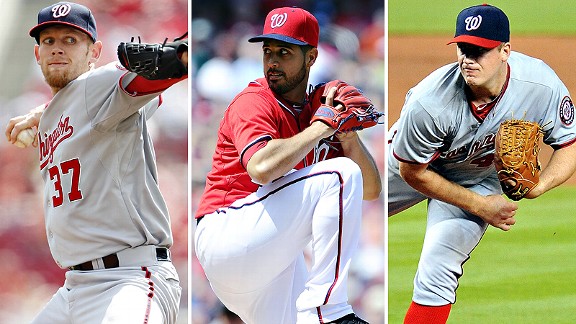 USA TODAY Sports
The Mets face (l to r) Stephen Strasburg, Gio Gonzalez and Jordan Zimmermann this weekend at Citi Field.
METS (7-7, third place/NL East) vs. WASHINGTON NATIONALS (9-6, second place/NL East)
Friday: RHP Matt Harvey (3-0, 0.82) vs. RHP Stephen Strasburg (1-2, 2.95), 7:10 p.m. ET
Saturday: RHP Jeremy Hefner (0-2, 7.20) vs. LHP Gio Gonzalez (1-1, 4.50), 3:05 p.m. ET
Sunday: RHP Dillon Gee (0-3, 8.36) vs. RHP Jordan Zimmermann (3-0, 2.45), 1:10 p.m. ET
Nationals short hops
• Catcher Wilson Ramos left Sunday's game and landed on the disabled list with a left hamstring strain. Kurt Suzuki has filled in strongly, hitting .360 with a .485 on-base percentage through 34 plate appearances. Nats catchers collectively have an NL-leading .333 average and 1.158 OPS.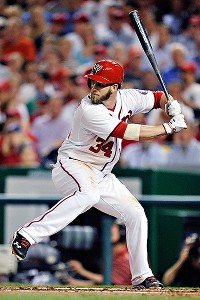 Joy R. Absalon/USA TODAY Sports
Bryce Harper had four hits Wednesday after missing a game with the flu.
• Bryce Harper, who received intravenous fluids pregame and vomited during the game, nonetheless went 4-for-5 in his return to the lineup Wednesday after missing a game with the flu. Harper had been in an 0-for-13 rut before the breakout. He's hitting .364 with a 1.090 OPS this season.
• Second baseman Danny Espinosa has missed three games with a bruised right hand, which he suffered getting struck with a pitch. He is 50-50 for a return Friday. Steve Lombardozzi has started three straight games in Espinosa's absence.
• Jordan Zimmermann (3-0, 2.45 ERA) tossed his first career complete game Monday, in Miami. He has been the Nats' top starter on a star-studded staff.
• Stephen Strasburg, who was shut down last season after a Sept. 7 appearance at 159 1/3 innings, will not be held out of the postseason this year. While there is no formal limit, the goal is to keep Strasburg at about 200 innings. Two of Strasburg's three highest career pitch counts have come in his last two starts. He threw 114 pitches on April 7 against Cincinnati, then 112 against the Braves last Saturday. His career high is 119 on June 8, 2012 against the Boston Red Sox.
• Gio Gonzalez is coming off his worst start in two seasons as a National. He allowed seven runs in five innings as the Braves completed a weekend sweep with a 9-0 win against Washington on Sunday in D.C.
• While not a Chuck Knoblauch-type yips situation, third baseman Ryan Zimmerman has mightily struggled making routine throws. He has four throwing errors in a five-game span. Zimmerman said his surgically repaired shoulder is fine and he is simply thinking too much about revised mechanics. The Nats have encouraged Zimmerman to throw more over the top this season.
• Like Harper, center fielder Denard Span had been slowed by the flu. He missed the Nats' past two games. Span was acquired from the Minnesota Twins on Nov. 29 for minor league right-hander Alex Meyer. Span, the leadoff hitter, has produced a .421 on-base percentage. Jayson Werth slid from second to first in the order the past two games in Span's absence.
• Davey Johnson became the 47th manager in major league history to suffer 1,000 losses on Sunday. Not to worry: Twenty-three of those managers are in the Hall of Fame. Johnson has a career 1,295-1,001 record. He was 595-417 in seven seasons with the Mets.
• The Nats added closer Rafael Soriano to an already deep bullpen on Jan. 17. The ex-Yankee signed for two years, $28 million, plus a $14 million team option for 2015. Soriano, Drew Storen, Tyler Clippard and Henry Rodriguez combined for 87 saves last season.
• First baseman Adam LaRoche (.195, 2 HR, 5 RBIs) opened the season in an 0-for-15 slump before breaking out with a two-homer game April 9 against the Chicago White Sox. He earned his first Silver Slugger and Gold Glove awards last year.