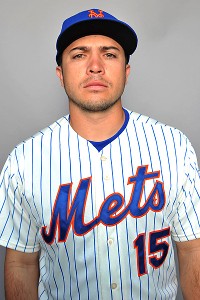 Steve Mitchell/USA TODAY Sports
Travis d'Arnaud will not need surgery, but is out an estimated eight weeks.
Travis d'Arnaud will not require surgery to repair a nondisplaced fracture of the first metarsal in his left foot. He suffered the injury getting struck with a foul ball while catching for Triple-A Las Vegas in the sixth inning Wednesday.
D'Arnaud was examined Friday at the Hospital for Special Surgery.
"He's in a boot," Terry Collins said. "They want him to do as little as possible for a while -- let that mending start."
Collins estimated d'Arnaud would be out eight weeks -- "maybe sooner."
D'Arnaud, 24, went face down behind the plate after being struck with the tipped pitch, in obvious pain. He managed to complete the inning before departing.
He was hitting .250 with one homer and eight RBIs and had a .429 on-base percentage in 49 plate appearances with Las Vegas.