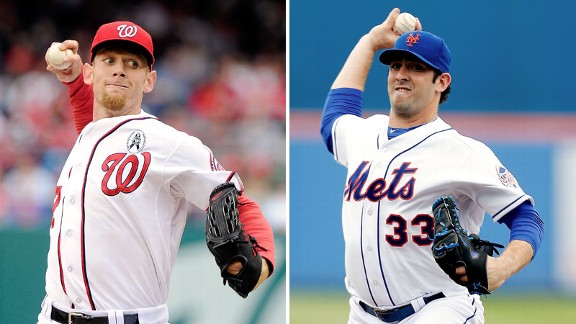 Getty Images
Stephen Strasburg and Matt Harvey face off Friday night at Citi Field.
Terry Collins described Matt Harvey as extra grouchy for Friday's start opposite Stephen Strasburg.
That's a reflection of Harvey's intensity, and a sense the right-hander believes this is an important measuring-stick moment in his young career.
"He was a little grouchy," Collins said pregame. "He's usually not quite that grouchy. When your manager walks up to you and the first thing you want to do is bite his head off, you're a little bit on the edge."
Collins actually tried to calm Harvey down to avoid him being too revved up for the start.
"I have a pretty good idea how he's going to react, but I'm anxious to see him perform," Collins said. "This is when the real good players step up. He's still a young, young player yet. And we have to understand what he's accomplished thus far is certainly outstanding, but he's still a young guy.
"I just talked to him a little bit ago and tried to rein him down a little bit, because he's sky-high at the moment. But I know he's ready for it. I know he's excited about it. He's got a huge challenge on his hands."
Collins suggested Strasburg, as a premier competitor himself, might feel something to prove as well given all the recent fawning over Harvey.
"There's been so much made of what Matt has accomplished so far, I'm sure Stephen Strasburg is sitting in their dugout saying, 'I've got a little of that, too,'" Collins said. "So it should be an interesting matchup, for sure."
Collins actually made a Barry Bonds comparison with respect to Harvey. Those are the only two players Collins has heard articulate that they want to be the top player in Major League Baseball, the manager said.
"He wants to be the best that there is in the game," Collins said about Harvey. "The last time I ever heard someone say that was Bonds. So it was a pretty big statement, I thought. All he's done thus far is backed it up."
Collins is not soft-peddling career expectations for Harvey.
"I think he is well-equipped to handle it," Collins said about the pressure associated with such hype. "I truly believe when you talk to this guy, his determination is what really sets him apart. It started a year ago. He just didn't want to make the team. He wanted to be the best pitcher on the team. And now he's on the team. And now he wants to be the best pitcher in the league."