FIRST PITCH: After a day off, the Mets get back to work Tuesday.
Clayton Kershaw is on the mound for the struggling-but-well-funded Los Angeles Dodgers. He opposes Jonathon Niese.
Read the series preview here.
Tuesday's news reports: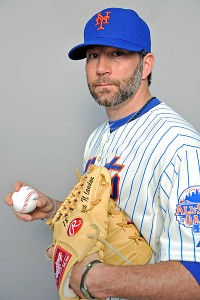 steve Mitchell/USA TODAY Sports
Shaun Marcum would appear ready to join the Mets on Saturday.
• Shaun Marcum tossed 52 pitches over five scoreless innings in an extended spring training game Monday and appears on track to be activated from the DL Saturday to face the Philadelphia Phillies. Marcum likely will be capped at 90 pitches in his Mets debut.
Marcum is guaranteed $4 million this season. He could have earned as much as $4 million in incentives, although the season-opening DL stint appears to already have made some incentives unreachable. Marcum gets:
-- $250,000 apiece for reaching 120, 140, 160 and 170 innings.
-- $375,000 apiece for reaching 180 and 190 innings.
-- $500,0000 for reaching 200 innings.
-- $375,000 apiece for 90 and 120 days on active roster, or on disabled list for injury unrelated to his right arm.
-- $500,000 apiece for being on active roster or DL for injury unrelated to right arm for 150 and 170 days. (The major league season is 183 days.)
Read more on Marcum in the Star-Ledger, Post and MLB.com.
• Outfield prospect Juan Lagares is expected to join the Mets from Triple-A Las Vegas, baseball sources told ESPNNewYork.com. Assuming that materializes, the Mets will need to demote two players this week (assuming no one is quietly injured): for Lagares and Marcum. The Mets have a glut of outfielders, including Kirk Nieuwenhuis, and are currently working with an eight-man bullpen. So something probably has to give in those two areas. The Mets face exclusively left-handed starting pitching in the Dodgers series, and Lagares would provide an extra righty bat.
• Ruben Tejada, who had a dazzling fielding play Sunday, is trying to put his six errors behind him. Among major league shortstops, only Washington's Ian Desmond has more errors (seven).
"I have to keep working, and I've stayed working hard to try to make the routine plays," Tejada told Marc Carig in Newsday. "I'm here, working hard, and the first thing I want to show is that I'm the same Ruben Tejada -- right now with a couple of errors early in the season -- but I don't feel bad about that. It happens." Read more in the Post.
• The Mets signed ex-Yankees right-hander D.J. Mitchell to a minor league contract. He likely will provide rotation depth at Triple-A Las Vegas. Read more in the Times.
• John Buck and Matt Harvey quickly have gotten on the same page with pitching calling. "He already knows what's coming," Harvey told Anthony DiComo at MLB.com. "It's really fun every time I take the mound and see him back there. It's just positive energy. It's more fuel."
Buck, by the way, planned to meet projected successor Travis d'Arnaud for lunch Friday when the prospect flew into New York from Las Vegas to get his broken foot examined by team doctors. But d'Arnaud's flight was delayed and they did not have time. Read more in the Daily News.
• The Mets lead the NL, averaging 5.82 runs per game, narrowly ahead of the Colorado Rockies (5.78).
"It's funny, 'cause usually you're built on one or the other: speed or power. And I don't think that we're really built on either of those," David Wright tells Jeff Roberts in the Record. "It's kind of a combination. We've got some guys that can hit a home run here and there. We've got some guys that can steal a base here and there. But I think we're more built on having good, quality at-bats, getting the starter's pitch count up."
Read more on the offensive production in the Star-Ledger.
• On this date in 1962, the Mets won their first game as a major league franchise, beating the Pittsburgh Pirates, 9-1. That snapped a nine-game losing streak.
• From the bloggers … With not much going on, Mets Police offers a Generic Mets Blog Post. … Metsmerized Online remembers the underrated Jerry Grote, who caught every inning of every playoff and World Series game in 1969 and 1973. Forty-five different pitchers. One catcher.
BIRTHDAYS: Former first-round pick Jason Tyner, who last played professionally in 2009, turns 36. … Former Mets/Marlins reliever Henry Owens is 34.
TWEET OF THE DAY:
Hey Yankees there's a new Ace in this city #HARVEY #METS

— Dave(@Dave_Gola) April 23, 2013
YOU'RE UP: Who is building a winner correctly -- the Mets, or the Dodgers with their big spending?