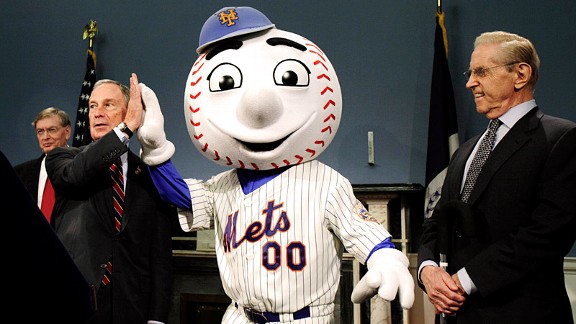 Richard Drew/Associated Press
Fred Wilpon and Mr. Met visited City Hall a year ago to officially announce the Mets had landed the 2013 All-Star Game.
Major League Baseball, the Mets and New York City jointly will unveil the All-Star ballot and kick off voting on Wednesday at City Hall in Manhattan at 11:30 a.m.
Among those scheduled to attend the press conference: David Wright, Edgardo Alfonzo, John Franco, Mookie Wilson, Mayor Mike Bloomberg and MLB executive VP Tim Brosnan.
Some plans for the All-Star festivities also will be shared.
The game will be played July 16 at Citi Field.
Bloomberg said last May that the city will receive a $191.5 million economic impact from an estimated 176,000 participants. He estimated another 30 million would watch the game via television or on the internet.
The mayor said this will be the ninth All-Star Game in the city, a record. He also said there had not been two in any city in a five-year span before. Old Yankee Stadium hosted the 2008 game in its final season.