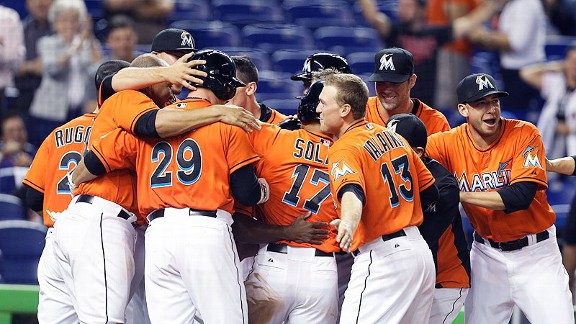 Lynne Sladky/Associated Press
The Marlins celebrate after Juan Pierre scores on Brandon Lyon's wild pitch in the bottom of the ninth.
MIAMI -- Brandon Lyon entered in a difficult situation, with first and third and none out and the Mets clinging to a one-run lead in the bottom of the ninth. He surrendered a game-tying RBI single to Donovan Solano, then became the eighth pitcher in franchise history to toss a game-ending wild pitch.
The Marlins rallied for a 2-1 win to send the Mets to their sixth straight defeat.
WILD ENDINGS
Mets pitchers have thrown eight game-ending wild pitches in franchise history. Souce: Ultimate Mets Database..
"I've been in those spots many times," Lyon said. "The execution just wasn't there. I didn't make the pitches to get out of it and get the team off the field at least with a tie and have a chance to win this game. It's a tough loss, back-to-back nights. Right now we'll just come in here tomorrow -- everybody -- and push for a win. We need one."
As for the wild pitch, which linked him with Pedro Beato, Fernando Nieve, Mike Marshall, Danny Frisella, Tom Seaver, Bill Hepler and Roger Craig in franchise history for throwing game-enders, Lyon said: "I didn't make a good pitch. I threw it down in the dirt. That's going to happen in that situation when you have the winning run on third and anything gets by or gets away. Obviously I'd like to take it back, but I can't. I'll just move on and learn from your mistakes."
Said catcher Anthony Recker: "It hit the dirt. I need to get there on that. It went away from me a little more than I was expecting. I didn't get over enough. I had my glove there. It kicked off my glove. I didn't quite get my body there in time. I need to get there."
The Mets had the lead three outs from victory three times in a 24-hour span in two games.
"You feel like we've been playing pretty good to win some games, and we haven't been able to do it," Lyon said. "I think everybody here is feeling pretty good about how we're playing. We're just not getting it done at the very end of the game."