During his sophomore season at Baylor University in 2010, right-hander Logan Verrett set the Big 12 single-season record for strikeout-to-walk ratio at 4.14. That ratio has only improved in the professional ranks.
Verrett, the Mets' third-round pick in 2011, has struck out 113 and walked 23 in 136 professional innings (4.91 K/BB).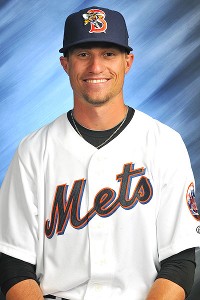 Courtesy of Binghamton Mets
Logan Verrett
He is 4-0 with a 2.48 ERA in five starts for Double-A Binghamton this season.
"What's been successful for me all through my career -- college and my first [pro] year -- was the ability to throw strikes," said Verrett, who split last season in Class A between Savannah and St. Lucie. "What I've improved mostly on is the ability to do that with all four of my pitches (fastball, curveball, slider, changeup) -- not just two, or three if it's a good night.
"All four of my pitches have been pitches that I can throw in any count, and for a strike if I need to. That's been a huge deal for me this year -- being able to change speeds like that in any given count with any given pitch and keeping the hitters off-balance. It's kind of allowing them to get themselves out earlier in counts, which keeps my pitch count down and allows me to go deeper into games."
Verrett, 22, had gone undrafted out of high school in Corpus Christi, Texas -- located midway between San Antonio and the Mexican border.
He is not a flamethrower by any stretch. His fastball typically ranges 88-92 mph.
"I was always able to keep the walks down and the strikeouts up," Verrett said. "My slider has always been my go-to pitch. And in college it was no different. Whenever I got ahead of hitters, I was able to put them away with that slider.
"Obviously, at this [Double-A] level, I'm sure the strikeout-to-walk ratio will drop a little bit from the college numbers. They're more selective. They can pick up pitches. They're here for a reason. That's why the other two pitches -- the curveball and the changeup -- have been good additions. I've always had them, but I hadn't been able to just throw them at any count."
Organization leaders
Average: Kevin Plawecki, Savannah, .391; Jayce Boyd, Savannah, .385; Andrew Brown, Vegas, .355; Juan Lagares, Vegas, .346; Josh Satin, Vegas, .330; Brandon Nimmo, Savannah, .322; Jamie Hoffmann, Vegas, .306; Cory Vaughn, Binghamton, .291; T.J. Rivera, St. Lucie, .287; Matt Reynolds, St. Lucie, .274.
Homers: Dustin Lawley, St. Lucie, 5; Kevin Plawecki, Savannah, 4; Josh Satin, Vegas, 4; Cory Vaughn, Binghamton, 4.
RBI: Andrew Brown, Vegas, 24; Jayce Boyd, Savannah, 22; Kevin Plawecki, Savannah, 20; T.J. Rivera, St. Lucie, 19.
Steals: Alonzo Harris, Binghamton, 10; Darrell Ceciliani, Binghamton, 7; Cesar Puello, Binghamton, 6; Danny Muno, Binghamton, 5; Brian Bixler, Vegas, 4; Stefan Sabol, Savannah, 4.
ERA: Robert Gsellman, St. Lucie, 0.00; Rainy Lara, Savannah, 1.88; Rafael Montero; Binghamton, 1.95; Matt Bowman, Savannah, 2.38; Logan Verrett, Binghamton, 2.48; Domingo Tapia, St. Lucie, 2.49; Hansel Robles, St. Lucie, 2.49; Luis Cessa, Savannah, 2.70; Collin McHugh, Vegas, 2.97; Noah Syndergaard, St. Lucie, 3.24.
Wins: Logan Verrett, Binghamton, 4; Matt Bowman, Savannah, 3; Angel Cuan, St. Lucie, 3; Rainy Lara, Savannah, 3; Rafael Montero, Binghamton, 3.
Saves: Jeff Walters, Binghamton, 8; T.J. Chism, St. Lucie, 3.
Strikeouts: Zack Wheeler, Vegas, 36; Rafael Montero, Binghamton, 35; Jacob deGrom, Binghamton, 26; Noah Syndergaard, St. Lucie, 26; Erik Goeddel, Binghamton, 25.
Short hops
• Right-hander Rainy Lara earned South Atlantic League Player of the Week honors. He tossed 7 1/3 scoreless innings, allowing five hits and no walks while striking out nine, Saturday against West Virginia. Lara, a 22-year-old Dominican signed in 2009, improved to 3-1 with a 1.88 ERA in four starts with Savannah. He has struck out 24 and walked three in 24 innings.
• 2011 first-round pick Brandon Nimmo, who had a .414 average on April 23, is in an 0-for-20 skid that has dropped that average 92 points.
• Center fielder Matt den Dekker, who suffered a fractured right wrist March 24 in Grapefruit League play, had the cast removed Monday. Den Dekker needs to do range-of-motion rehab for two weeks before beginning baseball activity.
• Ex-Yankees right-hander D.J. Mitchell entered the Triple-A Las Vegas rotation Monday after one appearance in extended spring training.
• Right-hander Robert Gsellman made his season debut with St. Lucie on Monday, tossing four scoreless innings against the Tampa Yankees. Gsellman was selected in the 13th round in 2011 out of Westchester (Calif.) High near Los Angeles. Gsellman, 19, had been pitching in extended spring training. He has a fastball, curveball and changeup.
Gsellman temporarily has replaced prospect Hansel Robles (2-1, 2.49 ERA), who landed on the disabled list. Robles' velocity has been way down according to observers, to the mid-80s. A team official said the injury is not severe, calling it fatigue in the upper back/shoulder/scapula and in soft tissue. "More like a strain."
• Left-hander Alex Panteliodis, who made 22 starts for Savannah last season after being slowed by a hip cleanout at the beginning of his pro career, will make his season debut as the starter for St. Lucie on Thursday. Panteliodis is a ninth-round pick in 2011 out of the University of Florida, which also yielded den Dekker for the Mets two years earlier.
• Noah Syndergaard, the right-handed prospect acquired in the R.A. Dickey trade, has responded since allowing a career-high seven runs on April 18. Over his past two starts, Syndergaard has limited opponents to two runs (none earned) on eight hits and three walks while striking out 11 in 13 innings.
• Catcher Kevin Plawecki (.391) and first baseman Jayce Boyd (.385) rank Nos. 1 and 2 in the South Atlantic League in batting average.
• Right-hander Michael Fulmer, returning from surgery to repair a meniscus tear, tossed two innings Monday in extended spring training.