MIAMI -- Trying to get Justin Turner into the lineup while also leaving his infield intact, Terry Collins said he weighed using Turner in the outfield Wednesday for the first time since brief usage there in 2006 at Class A Billings.
Collins opted to leave Turner out of the lineup rather than have his reintroduction to the position come in a spacious ballpark with tricky outfield walls.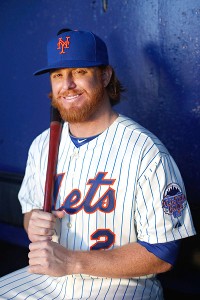 Chris Trotman/Getty Images
Justin Turner may get a look in the outfield soon.
Collins did not want to sit Daniel Murphy or Ike Davis. They are a combined 7-for-15 with two homers in their careers against Marlins left-hander Wade LeBlanc.
FRANK TALK: Frank Francisco is due to have a two-inning appearance today or tomorrow in Port St. Lucie, Fla. After a day to recuperate, Francisco then may work back-to-back days for the first time since opening the season on the DL with elbow inflammation. Collins said Francisco's fastball has been about 92 mph, with some 94s.
Meanwhile, Pedro Feliciano -- who is back to appearing in Florida State League games -- was registering 85-86 mph with his fastball before a recent shutdown due to food poisoning, according to Collins. Feliciano has resumed pitching with the FSL club.
O YES? Collins, perhaps toeing the party line, said he is pleased with the Mets' approach at the plate, despite the recent futility. The Mets have scored three or fewer runs in eight of their past 12 games.
Collins noted even talented starting pitchers are not going deep into games against the Mets. During the past dozen games, the Mets drove up pitch counts and got pitchers out of the games early. Stephen Strasburg logged six innings, Gio Gonzalez four, Jordan Zimmermann five, Clayton Kershaw five, Ted Lilly five and Jose Fernandez four.
Collins suggested that the Mets just are not squaring up balls against opposing bullpens.
BP SPIEL: Bobby Parnell and Collins spoke late Tuesday, after the closer was upset he was unused with a one-run lead in the ninth. Collins affirmed Parnell was the closer and told him he did not intend to overdue early season use. Last season, Collins said, Parnell developed a sore elbow, which might have resulted from overuse. "I'm not going to blow you out," Collins told Parnell.
ENCOURAGING SIGN: Collins was particularly pleased that Zack Wheeler didn't walk a batter until his seventh and final inning in a solid outing for Triple-A Las Vegas on Tuesday. The manager, who spent 13 years in the Pacific Coast League, said he understands balls can be difficult to grip with the high altitude and dryness. Collins noted in his days in that league, it was not uncommon for pitchers to have pine tar lathered in their glove in order to illegally use to grip baseballs.