MIAMI -- Hitting coach Dave Hudgens' message to players as the Mets' offense went into hibernation for a week?
Don't panic. Stick with the plan.
"It's not the first time I've been involved with a team that hasn't hit with runners in scoring position before," Hudgens said Wednesday, after the Mets finally put up seven runs in a win against the Miami Marlins that snapped a six-game losing streak. "If you're a hitting coach, it's going to happen. But I've also been with this club where we've hit very well with runners in scoring position. I know what we can do when guys have a good approach at the plate. It's just a matter of staying with the plan."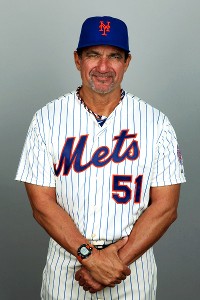 Win McNamee/Getty Images
Hitting coach Dave Hudgens
The Mets actually have scored 126 runs this season, third in the NL behind the Colorado Rockies (148) and Cincinnati Reds (128). Their team batting average, though, is .237 -- better than only the Washington Nationals (.230) and Miami Marlins (.229).
The last seven days have been pretty abysmal -- a .207 team batting average and .280 on-base percentage. During their six-game losing streak, the Mets hit .096 (4-for-41) with runners in scoring position.
"All hitters want results. That's why they're here," Hudgens said. "I think you show what you're made of when you stay with the process, when you don't panic. And that's what professional hitters do. They know they're going to have success. You don't panic. You stay with what you know. And, eventually, you come out of it.
"It's just when everybody kind of goes into a little bit of a funk, that's a little more noticeable. We're well capable of coming out of it, and hopefully [Wednesday] was a good sign."
Terry Collins noted the Mets have forced opposing starters' pitch counts sky high. Recently against the Mets, Gio Gonzalez and Jose Fernandez lasted only four innings apiece and Jordan Zimmermann, Clayton Kershaw and Ted Lilly completed only five.
Is the Mets' seeming over-selectiveness in taking strikes a myth?
They're right in the middle of NL East teams in terms of percentage of plate appearances in which they fall behind 0-1: Phillies 50.0 percent, Nationals 49.4 percent, Mets 49.3 percent, Braves 49.1 percent, Marlins 48.2 percent.
And they actually fall behind in the count in a fewer percentage of plate appearances overall than any other division team: Braves and Marlins 34.2 percent, Phillies 33.5 percent, Nats 31.8 percent, Mets 30.1 percent.
So the question would be whether the Mets are passing up on hittable strikes early in the count and then swinging at tougher ones later. Are they being passive rather than driving the ball because they are being conditioned to drive up pitch counts?
Maybe the Mets' execution of the organization's approach is faulty. Taking pitches doesn't work if it means taking good pitches just to drive up pitch counts. (The philosophy officially is to swing at your pitch in the zone, not just any strike.)
The simplest explanation Maybe it's just the quality of the players -- that Marlon Byrd and Collin Cowgill are performing the way they should.
"I don't think they think about it," Hudgens said about the runners-in-scoring-position funk getting in hitters' heads. "I really don't. I think that goes in stretches. The next 40 at-bats with runners in scoring position we may get 15 or 20 hits. It just goes in those cycles.
"Guys just overall with their at-bats start pressing a little bit and there just happen to be runners in scoring position. They're really up there trying and doing everything they can to get good results. And, sometimes, those results aren't happening. I think we just have to be mentally tough enough to stay with our approach and not panic."
Said Collins: "The most frustrating thing about the whole last six days or seven days is that we've been in the games. It's not that we're getting blown out. We're in the games. We're giving ourselves a chance. We just haven't been able to create any offense. Hopefully [Wednesday] is a start, because we're going into a place that's pretty tough to play right now."