FORT MYERS, Fla. -- Left-hander Pedro Feliciano believes he is due for some good karma.
His spring training was disrupted by team doctors detecting a heart condition. Then, while working with Class A St. Lucie to build up arm strength, he ended up in the hospital back in his native Puerto Rico with a serious case of food poisoning from fish tainted with bacteria, causing another absence.
He since has rejoined the Florida State League club. In his fourth St. Lucie appearance, Feliciano tossed a scoreless but imperfect frame on Thursday night against the Fort Myers Miracle, a Minnesota Twins affiliate. His fastball sat at 83 mph, with an occasional 84 mph.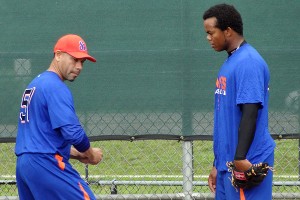 Adam Rubin
Pedro Feliciano tutors Dominican right-hander Wanel Mesa before Thursday's St. Lucie-Fort Myers Florida State League game.
Feliciano has yet to work back-to-back days, but that may materialize Friday.
On Thursday night, Feliciano issued a full-count walk to righty-hitting leadoff hitter Levi Michael, with one pitch going to the backstop. He then surrendered a first-pitch single through the right side of the infield to lefty-hitting Eddie Rosario. Feliciano followed by retiring righty-hitting big-time prospect Miguel Sano on a flyout to left field. He then received a stellar fielding play behind him to get out of the inning.
Bronx-born second baseman T.J. Rivera dove to his left and initiated a 4-6-3 double play against righty-hitting Kennys Vargas to end the inning.
Although Feliciano does not have a formal out in his contract, the Mets asked Feliciano at the end of spring training to give the minors a month to build up arm strength.
Feliciano's fastball was sitting at only 82-84 mph in camp. Even though he did not show improvement Thursday, the velocity has crept upward, according to St. Lucie manager Ryan Ellis.
"Not only his velocity, but his depth on his pitches," Ellis said. "The depth on his pitches -- I was talking to him about it -- his slider is really moving well. And his fastball, along with the velocity, has a really good sink. He's coming along very nicely."
Said Feliciano: "It's supposed to be a month. I'm ready. I'll just keep pitching here, or pitch in Vegas. Wherever they send me. And I'll be ready for the call. … I think I have more strength. My slider is sharper. My fastball has got more life. I feel stronger."
Asked if the Mets might move him to a higher level soon, a team official said: "He's been out for a while. We have to see how he does."
Feliciano, 36, is traveling separately and not riding the bus with his fresh-faced Florida State League teammates. But he seems to have integrated himself and is working hard. He spent time in the visitors' bullpen at Hammond Stadium on Thursday afternoon giving a pitching-mechanics lesson to 26-year-old Dominican right-hander Wanel Mesa.
As for the food-poisoning scare, doctors were extra alarmed because of Feliciano's heart issue.
Feliciano had flown home to Puerto Rico because his son had bronchitis. A day after taking his son to the emergency room, Feliciano found himself headed there again for his food poisoning. His mother had prepared fish, which ended up having bacteria. Feliciano had a violent stomach ache and nausea.
"In like three hours I was sick," Feliciano said. "… It was scary. I almost died."
He figures he is due for something good to happen given all his recent health drama.
"That means something is going to come good," Feliciano said.