FORT MYERS, Fla.
FIRST PITCH: After a day off, the Mets now open a three-game series in the Chop House.
Shaun Marcum, who pitched in relief Monday and suffered the loss in the 15th inning, makes his second Mets start. Marcum opposes Atlanta Braves left-hander Mike Minor.
Read the series preview here.
Friday's news reports:
• Matt Harvey's favorite NHL team may have lost Thursday, but the right-hander did win some hardware. Harvey was named NL Pitcher of the Month for April. Read more in the Daily News and MLB.com.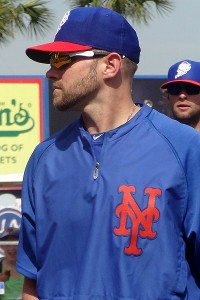 Adam Rubin
Andrew Brown is due to join the Mets this weekend.
• Outfielder Andrew Brown is due to join the Mets in Atlanta from Triple-A Las Vegas, a team source told ESPNNewYork.com. Whom will the Mets remove from the active roster? Stay tuned.
• Pedro Feliciano spoke with ESPNNewYork.com about his food-poisoning bout and belief he is ready for the majors now.
• Columnist Kevin Kernan in the Post advocates more Jordany Valdespin. 'Spin has produced more RBIs than Ike Davis, Lucas Duda or Ruben Tejada despite far fewer at-bats. Writes Kernan:
This season is essentially a science project for the Mets, so let's see what Valdespin can do on an everyday basis in the outfield.
Give him the chance to play every day. Get answers now. After all, it's not as if the Mets came into the season with an outfield featuring the Upton Brothers and Jason Heyward.
Valdespin explained to Jorge Castillo in the Star-Ledger that he gets a ton of fastballs as a pinch hitter, which may be why he is more successful in that role. "When you have a situation where you start, you're looking for the pitch they're getting outs with," Valdespin said in Spanish. "It's very different. When you're a pinch-hitter it's different because they attack you with fastballs and so every time I pinch-hit I look for a fastball."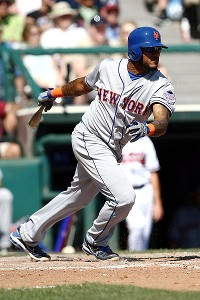 Douglas Jones/USA TODAY Sports
Jordany Valdespin is better as a pinch hitter because he sees more fastballs.
Writes Castillo on Valdespin:
Valdespin is a .246 career hitter. His career on-base percentage stands at .289, a product of his liberal plate discipline. Even his numbers as a pinch hitter -- besides the power production -- are not enviable: He has a .208 batting average with 17 strikeouts. But his sample size is miniscule -- 117 career games -- and the Mets outfield, besides Lucas Duda, is not producing. Mets outfielders are hitting a combined .220 with a .680 on-base-plus-slugging percentage this season.
Read more on Valdespin in Newsday.
• Mike Kerwick in the Record profiles left-hander Scott Rice, who already has 16 relief appearances through 26 games. Lefty batters are hitting .133 against Rice.
• Seth Livingstone in Newsday examines the post-Chipper Jones Braves.
• John Buck had nine homers in April. Read more on him in the Post.
• Hitting coach Dave Hudgens says the Mets just need to stay calm and with their plan and the offense will right itself. Read more at MLB.com.
• Scott Cacciola in the Times examines what is wrong with Davis. Writes Cacciola:
Davis seemed primed for a solid start, especially after he hit .326 in spring training. Things have not gone as planned. His contact rate, according to the baseball statistics site FanGraphs, is the lowest of his career, at 74 percent. His strikeout rate of 29.1 percent is the highest of his career. His slugging percentage is a spaghetti-armed .315.
The twist is that Davis has continued to exercise decent plate discipline. He does not appear to be pressing more than he has in the past, having swung at a career-low 23.5 percent of the pitches he has seen outside the strike zone. In fact, Hudgens sensed that Davis was more anxious during spring training.
• Columnist Bill Madden in the Daily News writes the Yankees "are a lot better than a lot of people thought they'd be, and the Mets are even worse than most believed."
• Collin McHugh allowed four runs in five innings as Las Vegas lost to Reno, 5-1. Josh Edgin surrendered a three-run homer and Binghamton was no-hit into the seventh inning in a 9-1 loss. T.J. Chism walked in the winning run in St. Lucie's 3-2 loss at Fort Myers. Savannah took over sole possession of first place in its South Atlantic League division. Read the full minor league recap here.
• Richard Sandomir in the Times and Ben Cohen in the Journal interview the University of Southern California freshman behind the Twitter account @DidMetsLose2Day.
• From the bloggers … John Delcos at Mets Report doesn't buy Terry Collins' reasoning for not starting Jordany Valdespin. … Shannon from Mets Police is getting excited for next Saturday's Banner Day.
BIRTHDAYS: Catcher Chris Cannizzaro, who played for the Mets during their first four seasons in existence, was born on this date in 1938.
TWEET OF THE DAY:
Tough loss @nyrangers. Next game they are in trouble. Especially when I get back for Monday's game at the garden. #NYRBelieve

— Matt Harvey (@MattHarvey33) May 3, 2013
YOU'RE UP: Whom would you like to see off the 25-man roster to clear a spot for Andrew Brown?