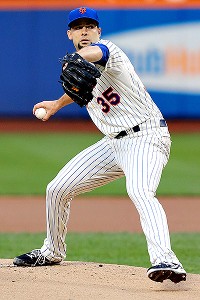 Anthony Gruppuso/USA TODAY Sports
Dillon Gee was charged with one run in five-plus innings Thursday.
Dillon Gee took a scoreless effort into the sixth inning. He departed that frame with the bases loaded and none out, but only ended up responsible for one run because Brandon Lyon limited the Pittsburgh Pirates to a sacrifice fly and no other damage.
"I was pleased," Gee said after the Mets won, 3-2, in the bottom of the ninth at Citi Field. "I don't think it was great or bad. It was just kind of average. I think it's going in the right direction. I felt pretty good tonight. Obviously, Lyon came in and got me out of a big jam and pitched awesome."
Gee's final line: 5.0+ IP, 5 H, 1 R, 1 ER, 2 BB, 3 K, 2 HBP. He thought the 101-pitch performance was a stepping stone after allowing four runs apiece against the Philadelphia Phillies and Miami Marlins his previous two starts.
"I think just the feel," Gee said, describing the improvement. "[After] the last couple of outings, to come back today and kind of pitch the way I did and make some good pitches when I really needed to, I feel like I was a lot better today than I have been. And that's the way it needs to be shifting right now."