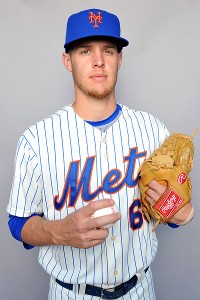 Steve Mitchell/USA TODAY Sports
Zack Wheeler
The Mets are 6-1 in Matt Harvey starts and 8-17 otherwise.
Harvey has a 1.28 ERA. The other Mets starting pitchers after Shaun Marcum allowed six runs in 4 2/3 innings Friday: 5.43.
So how much longer can the Mets afford to keep Zack Wheeler in Triple-A, especially with fans clamoring for the top prospect?
"That's a call made by somebody else," Terry Collins said, deflecting that call to the front office. "I'm not here to answer the fans. I'm here to make sure we get these guys in this clubhouse to get better. I can't worry about people that aren't here. You know, I'd like to have [Albert] Pujols, too, but I don't have him.
"What we've got to do is get the guys that we have in there and get them better, make sure they continue to improve and we start putting some points on the board. Again, we got a couple [runs] late, but we aren't given them much room to wiggle on the mound, either."
Wheeler makes his next start Saturday night for Las Vegas against Albuquerque, the Triple-A affiliate of the Dodgers. He has allowed one run in 12 2/3 innings over his past two starts.