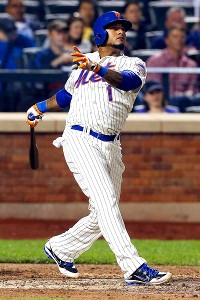 Jim McIsaac/Getty Images
Jordany Valdespin admires his ninth-inning solo homer.
After producing a solo homer in the ninth inning that pulled the Mets within five runs, Jordany Valdespin flipped his bat and slowly rounded the bases.
Did Terry Collins like it?
Doesn't matter, the manager replied. He is pretty much resigned to it.
"We've talked about this individually. We've talked about it as a group," Collins said. "In the game today, you've got to turn your head on some things. It's done everywhere. Do I like it? I don't know if it really matters. I can't change the game.
"I know he's trying to make a statement because he hasn't been in the lineup. I know he's trying to make a statement to everybody what he can do. If he keeps hitting homers, he can stand at home plate all he wants, I guess. As long as they start coming up at the right time."
Whether Valdespin's teammates will like it probably will ultimately depend upon whether teams target them with retaliatory plunkings or Valdespin.
"When you hit the ball, you've got to enjoy your hit," Valdespin said unapologetically. "When you strike out, you've got to keep your head down. Every time I hit the ball -- a home run or something -- I enjoy it. … Every hit, I'm enjoying. My family enjoy. My friends enjoy."