The good news for Shaun Marcum: X-rays of his left hand, near the thumb, were negative after he was struck with a line drive off the bat of Wandy Rodriguez.
The bad news: Marcum surrendered six runs in 4 2/3 innings, including a three-run homer to Garrett Jones in the fifth, as the Mets fell to the Pirates 7-3. He dropped to 0-3 with an 8.59 ERA in four appearances (three starts) in his Mets career.
Marcum is the first pitcher in franchise history to fail to complete five innings in any of his first three starts with the club. He last had a three-game losing streak -- a career high -- back in 2006 with the Toronto Blue Jays.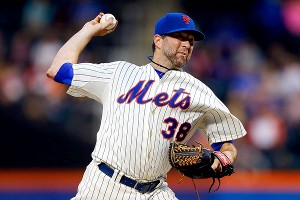 Jim McIsaac/Getty Images
Shaun Marcum allowed six runs in 4 2/3 innings Friday.
"Last time I went through a stretch like this was when I was a reliever," Marcum said. "And I don't remember what year that was -- maybe '06. It's been a long time."
Terry Collins offered Marcum the alibi of having rushed back from a season-opening DL stint for neck and shoulder pain related to an irritated nerve. It is worth noting Marcum has now made four regular-season appearances, so the validity of that reasoning is fading with continued struggles.
"I think Shaun tried to hurry through the rehab and get up here because he knew we needed help," Collins said. "The first inning, obviously, I mean his velocity was good. His stuff was moving. The second inning he just left balls on the plate instead of hitting his spots. I think we've got to run him out there again, because as we said the last start, he's basically right toward the end of spring training."
Marcum said he is having no difficulty getting ahead of batters. It's what he does at that point. Instead of making pitches look like strikes that eventually tail out of the zone, he is simply leaving them up and over the plate.
"I feel good," Marcum said. "The thing is I'm not making pitches. When you don't throw 95, and your ball is up in the zone, they're going to get hit. The main thing is I have to get back to locating, getting the ball down in the zone.
"The home run to Jones was where I wanted to throw it, so you have to give him credit for that," he continued. "But most of the hits that I gave up were balls that were up in the zone."
As for the left hand injury, which Collins and trainer Ray Ramirez came to the mound to investigate in the second inning, Marcum said: "It's fine right now, just a little sore."
Said Collins: "I was very, very worried about his hand, certainly. I thought for sure he broke his thumb the way the ball came off of it. But the X-rays are negative. We'll just get him on the side and hopefully he continues to get a little bit better."