Jonathon Niese indicated the back issue that had left him "pretty sore lately" is behind him. However, the southpaw added, he developed a bad habit while compensating for the back woes. And now his arm angle is lower and hitters are picking up the baseball out of his hand earlier and more easily.
Niese (2-4) was charged with eight earned runs in 4 1/3 innings Saturday in what became an 11-2 loss to the Pittsburgh Pirates. He has now allowed seven or more earned runs in consecutive starts for the first time in his career. Niese's ERA ballooned to 5.93.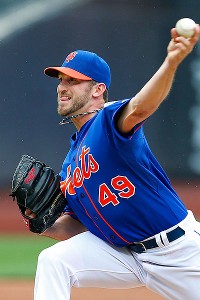 Rich Schultz/Getty Images
Jon Niese allowed a career-high-matching eight runs Saturday.
"Everything feels great," Niese said about the back. "I think it's to the point now where I created a bad habit with dropping down my arm angle, and I'm kind of opening everything up. It's something I'm going to work on in the bullpen to get it back.
"I'm not really deceiving anybody right now. With my arm angle being down, I think they can pick up the ball a lot sooner. That's why I think they're not chasing some of the pitches that they normally chased. Hopefully I can get it back, and hopefully I can get back on track. Everything is flat right now. There's not much depth on the pitches."
Niese said he will begin by mimicking his optimal delivery in front of a mirror to "create that muscle memory." He will then take it to a bullpen mound to work on in advance of his next start, Thursday in St. Louis opposite Adam Wainwright.
"I've been pretty sore lately," Niese said. "It's a bad habit that I've got to break and I'm going to be working on."
Said Terry Collins: "One thing about Jon is that he makes you swing the bat to beat him. So when he starts falling behind, getting in deep counts, that is very uncharacteristic. You look back in the second half last year when he was pitching his best, he's in the ninth inning a lot -- eighth and ninth inning -- with 100 pitches. He's got 80 after five [now], so it's something we've got to address."
Niese's velocity had been low early this season, but it has crept upward. Inside Edge had him at his standard 90 mph Saturday, although the 84th and last pitch Niese threw against the Pirates -- a fastball -- registered 85 mph.
"It's not anything physical the reason that his velocity dropped as the game went along," Collins said. "I just think it was due to the workload."
As for his overall concern with Niese, the manager added: "If it was something physical, I'd worry about it. But he's battled through some other tough times. He'll get through this."