ST. LOUIS
FIRST PITCH: With their record having dropped to nine games under .500 this early in a season for the first time since 2001, the Mets send Jonathon Niese to the mound in a 1:45 p.m. ET series finale in St. Louis, trying to avoid getting swept in a four-game series.
Niese (2-4, 5.93 ERA) opposes Adam Wainwright (5-2, 2.30) in the Busch Stadium matinee.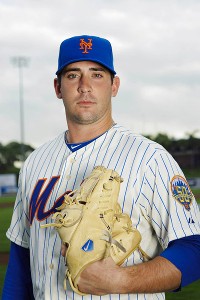 Steve Mitchell/USA Today Sports
Only one more day until Matt Harvey pitches.
Only one more day until Matt Harvey starts at Wrigley Field.
Thursday's news reports:
• Shaun Marcum tossed 6 2/3 solid innings and Rick Ankiel produced a game-tying two-run homer, but the Mets allowed the decisive run to score on a wild pitch for the second time this season and lost to the Cardinals, 4-2, Wednesday. David Wright, whose drop while applying a tag led to an early unearned run, said the Mets are experiencing baseball's "cruelness" right now. The Mets have lost six straight for a second time this season.
Read game recaps in the Post, Daily News, Times, Newsday, Star-Ledger and MLB.com.
• Zack Wheeler received a cortisone shot for inflammation in the AC joint in his right shoulder. He will rejoin Triple-A Las Vegas and miss only one start. The Daily News snapped a photo of Wheeler leaving the Hospital Special Surgery. (The Atlanta native is wearing a Falcons hat.) Read more in the Post, Newsday and Star-Ledger.
• Terry Collins regretted his word usage when he said he does not answer to the fans.
Sandy Alderson told Marc Carig in Newsday: "I think that he did misspeak. I think he's handled himself well under the circumstances. It's tough when you're losing games in bunches. I think he's shown considerable restraint."
On the Jordany Valdespin weekend incident that precipitated Collins' comments, LaTroy Hawkins candidly tells Bob Nightengale in USA Today:
"What were we supposed to do there? We were down six runs, he hits a home run and he acts like it's a walk-off. This isn't Little League. What, now we're supposed to get into a fight for that? We're supposed to throw at somebody because he did a bonehead thing? Now, if they throw at him for no reason, that's a different story. We protect our team. But to do what he did put us in a bad spot, a real bad spot.
"He showed absolutely no respect. If you're going to pimp it, you're going to suffer the consequences. I have no problem defending my teammates, but some things, you just can't defend against. He's created a lot of unnecessary tension around here."
Read my take here.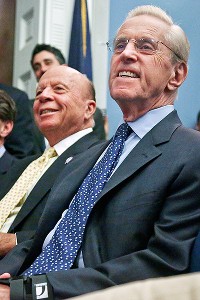 Bebeto Matthews/Associated Press
Fred Wilpon offered no comment on the state of the Mets on Wednesday.
Read more on Collins and Valdespin in Newsday, the Post, Record and Star-Ledger.
• At the owners' meetings in Manhattan, Fred Wilpon declined to speak to reporters about the team. Writes columnist Ken Davidoff in the Post:
Another hellish week for the Mets. Good grief. Although in their defense, they hadn't endured one of these since all the way back in ... April.
So what does their patriarch think of this? Mets chairman and CEO Fred Wilpon cheerfully entered Major League Baseball's Manhattan headquarters yesterday morning, reporting to the quarterly owners' meetings, and, amidst some small talk, declined comment. He deferred -- or deflected -- the line of questioning to general manager Sandy Alderson.
"We just spoke," Wilpon said of Alderson.
• Tom Verducci at SI.com scrutinizes the Mets' unexceptional track record drafting pitchers.
• Niese worked on his mechanics between starts by watching himself in a mirror, writes Anthony DiComo at MLB.com.
• Cory Vaughn hit a grand slam as Binghamton beat Akron, 9-4. Read the full minor league recap here.
• Jared Diamond in the Journal investigates John Buck's propensity to hit teammates, even below the belt, during postgame celebrations.
• From the bloggers … John Delcos at Mets Report looks into Collins' damage control.
BIRTHDAYS: Reliever Jerrod Riggan, who was traded to the Cleveland Indians in the Roberto Alomar deal, turns 39.
TWEET OF THE DAY:
REPORT: #Mets parting ways with @snytv, will ink multi-year deal with @comedycentral.

— Will Beekman (@WillBeekman) May 16, 2013
YOU'RE UP: What do you think about LaTroy Hawkins' comments regarding Jordany Valdespin admiring his homer?