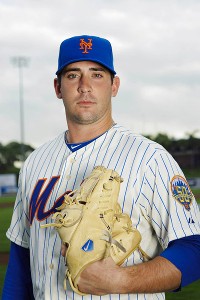 Steve Mitchell/USA TODAY Spors
MLB denied the Mets' request to change one run charged to Matt Harvey to unearned.
Matt Harvey's ERA will remain at 1.55 entering his Wednesday afternoon start against the Cincinnati Reds.
Major League Baseball denied the Mets' request to change the scoring on Alfonso Soriano's grounder Friday at Wrigley Field, which would have changed an earned run to unearned and dropped Harvey's ERA to 1.41.
The thrust of the argument was that there should have been a straight error on Ruben Tejada's throw that bounced past Ike Davis and allowed Anthony Rizzo to score from second base in the first inning. Instead, Soriano was awarded an infield hit. There also was an E-6 charged for allowing Rizzo to score from second base.
In essence, official scorers are asked to reconstruct what would have happened had a previous error not been committed.
The infield-hit designation meant there should have been only one out, in the scorer's estimation, when ensuing batter Nate Schierholtz sent a line drive to center field.
Had there been a straight E-6 designation, Schierholtz's subsequent lineout to Rick Ankiel would have been the third out of the reconstructed inning and Rizzo would have been stranded at third base -- making Rizzo's run unearned.