Matt Harvey expressed disappointment with his performance after allowing a career-high nine hits and surrendering a season-high four runs in a no-decision in what became a 7-4 loss to the Cincinnati Reds.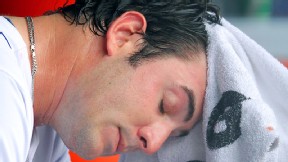 Brad Penner/USA TODAY Sports
Matt Harvey surrendered a career-high nine hits Wednesday.
"It was a tough day -- whether it was the changeup I couldn't necessarily throw for a strike when I wanted to -- and everything just crept over the middle," said Harvey, who tossed 6 1/3 innings. "It was one of those days. I didn't execute. I didn't do a good job. I've got to be a lot better than that. Nine hits is unacceptable for me. Obviously I wasn't happy giving up any runs. Today we needed a big win, and I wasn't able to do that."
Harvey's ERA rose to 1.93, which dropped him to fifth in the National League.
The matchup with Mat Latos marked only the third time in major league history that two undefeated starters squared off at least nine starts into the season, according to the Elias Sports Bureau. Harvey was 5-0 and Latos was 4-0 entering the game. The other instances: Arizona's Brandon Webb (6-0) against San Diego's Jake Peavy (4-0) in 2005 and Cleveland's Mudcat Grant (7-0) versus the Yankees' Ralph Terry (4-0) in 1961.
Even though he did not have his best stuff, Harvey said he never gave a thought to walking Joey Votto in the third inning once he fell behind in the count. After falling behind 3-0 with a runner aboard and one out, Harvey caught too much of the plate with his next pitch and Votto homered for a 2-1 Reds lead.
"I'm not going to give in to anybody, regardless," Harvey said. "That's not really who I am. I'm not afraid to throw to anybody. I just didn't make my pitch. I need to be better."