For the first time in his three seasons at the helm, Mets manager Terry Collins sensed despair setting in last weekend.
What a difference a five-game winning streak -- including sweeping a season series from the Yankees for the first time in Subway Series history -- makes to change the team's psyche.
"Due to what we've gone through in the last three weeks, the hardest thing I've done is try to keep these guys positive," Collins said after the Mets beat the Yankees 3-1 Thursday in the Bronx. "That's the biggest part of this job. It wasn't about changing stances or shuffling bullpens. It was about trying to keep the guys in the clubhouse positive.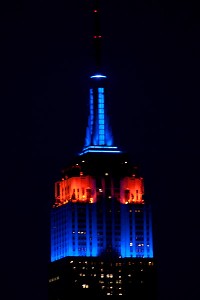 Courtesy of Empire State Building
The Empire State Building shines in blue and orange Thursday night after the Mets swept the Subway Series.
"Look, you've got to work your way out of it. Everybody goes through some bad times. You've got to work your way out of it. That was the hardest part of this, because you could sense there was tremendous frustration. Guys were down. You heard some of those guys that I had been with for three years now start to say, 'I don't know if I can do this. I can't do it anymore.' You can't listen to that, because it's a long, hard season.
"That's why these games meant so much to us. This series -- I know it was the Subway Series -- but this series, coming out of that win against Atlanta, meant something. Then, when you come back against the best closer that's ever pitched, I mean, that's got to lift your spirits. I don't care who you are."
The Mets entered Sunday with a 17-29 record. They're now seven games under .500, but the hole is not quite as deep.
Collins said he had tried everything in recent weeks to no avail. The last straw of desperation was threatening people. Ike Davis and Ruben Tejada were confronted with the possibility of imminent demotions. Dillon Gee, who pitched into the eighth inning Thursday and retired the final 15 batters he faced, was told his rotation spot was in jeopardy.
"I tried everything that I knew to try, and it wasn't working," Collins said. "The pats on the back. The 'hang with 'em.' Trying to take the pressure off of them. All of the things that you try to do. … It wasn't working.
"So you just had to say, 'Hey, look, it's got to be now. It's got to be stepped up right this minute.' And they did."
Said closer Bobby Parnell, who threw the final pitch of the 2013 Subway Series: "It means a lot to us. Any four games means a lot to us. We need to start winning some ballgames. We did it here. And we've got to carry it down to Miami with us."