WASHINGTON -- Kirk Nieuwenhuis homered twice Tuesday afternoon for Triple-A Las Vegas, giving him eight long balls in his past 14 games with the Pacific Coast League club. And Terry Collins said Nieuwenhuis is back on the radar for a potential return to the majors.
"He sure is," Collins said.
After making the Opening Day roster, Nieuwenhuis went 2-for-16 with one walk and eight strikeouts and was demoted April 23.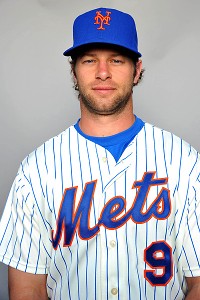 Steve Mitchell/USA TODAY Sports
Kirk Nieuwenhuis has seven homers in his past 14 Triple-A games.
Collins said he spoke with Triple-A manager Wally Backman, and the homers are not the result of hitter-friendly PCL conditions.
"I talked to Wally today for quite a while," Collins said. "He said they were legitimate. He didn't care where he was playing, they were homers. He said he thought his swing is getting a lot better. He's certainly more aggressive with two strikes. And, of course, we know how good a defender he is. But he thinks offensively that Kirk really has come along well."
Of course, the Mets already have a lefty-hitting center fielder in Rick Ankiel. But he's 2-for-his-last-28 with 13 strikeouts and has been dropped to No. 8 in the lineup.
Collins said he hoped playing against his former employer, the Washington Nationals, would give Ankiel a jolt, since Ankiel performed well against his original club, the St. Louis Cardinals, immediately after joining the Mets.
Meanwhile, asked if had reached the point where it is counterproductive to have righty-hitting rookie center fielder Juan Lagares on the roster if he is not playing much, Collins said: "Well, we've probably reached it and passed the point. We brought this guy up here to make sure we don't overexposure Juan -- to bring him along slowly. So we're trying to do that.
"But certainly, in a perfect world, Juan Lagares would in the lineup somewhere -- if it's not here, certainly playing at Triple-A, because he is a future guy. We're trying to pick our spots.
"This guy is pretty stinking tough on right-handers -- Juan Lagares against Jordan Zimmermann. That's a lot to ask. And if [Stephen] Strasburg is the guy on Thursday, I don't know if that's a fair matchup."