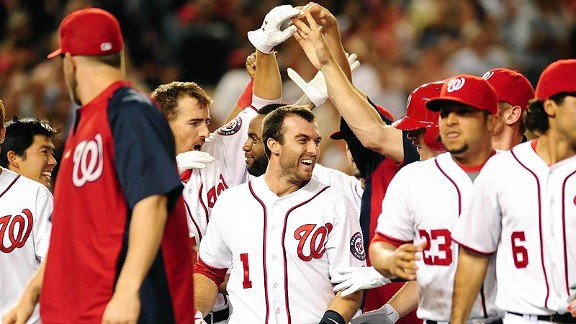 Evan Habeeb/USA TODAY Sports
The Nats celebrate after handing Bobby Parnell his third blown save in 12 chances this season.WASHINGTON -- Mets closer Bobby Parnell's two previous blown saves this season resulted in large part from letdowns in the field behind him: Ruben Tejada airmailed an eighth-inning throw in Colorado and Collin Cowgill broke the wrong way on a fly ball in Miami.
This time, Parnell had no alibi as a streak of seven straight save conversions ended with a two-run ninth by the Washington Nationals in their 3-2 come-from-behind victory over the Mets on Tuesday night at Nationals Park.
Ryan Zimmerman doubled to lead off the inning, advanced to third on a wild pitch and scored on Adam LaRoche's single. Eventually, the bases were loaded, including an intentional walk, and Steve Lombardozzi ended it with a sacrifice fly to defensive replacement Mike Baxter in left field.
"I struggled a little bit, but it's not my first one, it's not my last one. I have to get them tomorrow," Parnell said. "I left a few balls over the middle that I didn't like. But they're a good-hitting team. It's a good part of the lineup. They earned it. I didn't walk them or anything like that. They hit some decent pitches. It could have been better."
Parnell pounded all fastballs to Lombardozzi with the bases loaded and none out.
"I felt like I could beat him up there," Parnell said. "I got the out. Just a bad spot in the field. I did everything I could to get it in. It's one of those things."
Said manager Terry Collins: "We were at the stage of the game exactly where we would have drawn it up at the beginning, and that's having Bobby in there with a lead in the ninth inning. It just didn't work tonight."
Collins thought Parnell may have overthrown for the first time this season, especially on the wild pitch that eluded catcher John Buck.
"The ball that got by John, this year I haven't seen [Parnell] lose command of the pitch upstairs," Collins said. "But, like I said, he was trying to go up. He just probably got underneath one."