NEW YORK -- Former Mets hitting coach Howard Johnson now has that role for Triple-A Tacoma, which owns the best record in the Pacific Coast League.
His opinion of Zack Wheeler, whom the Rainiers have faced twice this season, including Friday?
The raw material is there to be a very good pitcher. Polish still is required.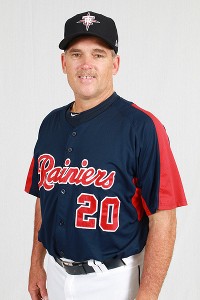 Courtesy of Tacoma Rainiers
Howard Johnson is the first-year hitting coach for Triple-A Tacoma, a Seattle Mariners affiliate.
HoJo did note that he has not seen Wheeler on tape against other opponents -- only in the two games Tacoma faced the Mets' top prospect. And those were two of Wheeler's roughest outings.
Wheeler surrendered five runs on six hits, three walks and a hit batter in five innings against Tacoma on April 25 in Vegas. He then allowed four runs on eight hits and a walk in 4 2/3 innings two days ago in Tacoma.
Overall, Wheeler is 4-1 with a 4.14 ERA in 12 Pacific Coast League starts.
"He's got all the pitches," HoJo said. "In the two games we've faced him, he has not commanded the fastball very well, and his breaking ball wasn't very sharp. He just didn't have a lot of deception. It was just if our guys could hit the fastball then they got him. For the most part, they did a pretty good job. He didn't really make us look bad in either start.
"I asked a couple of our hitters about him. They were impressed with his velocity, and he had better movement this time than last time. But they really weren't that impressed with him overall as a guy that's getting the attention that he's getting."
HoJo said that is by no means a disparagement.
"I haven't seen any video of him against other teams," he said. "I'm just going from strictly what the guys in the box are seeing and what we've seen. From a scout's point, there's nothing not to like. He's a scout's dream because he throws so hard, he's got all the pitches. When he's commanding, yeah, he can be really tough. When he's not commanding, he's very, very hittable. That's what our guys were saying. That was the general feeling that they had, that they could hit the guy."
HoJo said one extra Triple-A start -- which the Mets apparently now intend to give Wheeler -- should not materially affect Wheeler's major league readiness. HoJo can see the value in leaving Wheeler in the minors the entire year. Then again, HoJo noted, with the Mets struggling it may not be incorrect to promote Wheeler and let him learn at the major league level -- albeit with some lumps.
"I don't see what one more start would do for him," HoJo said. "If he's already shown that he can command it at times, then seeing where the Mets are at this point, I don't see the harm in bringing him up and letting him get used to the media and all that.
"I don't want it to sound like I'm negative on the kid or anything like that. He's got a great future. He's got a great arm and a great future. The polish he's going to get -- if you really wanted to make sure everything was right before he got there -- just leave him in Triple-A all year. That's what I would do. But that's up to the Mets."