NEW YORK -- Was David Wright hoodwinked? And what must he really be thinking now?
Before Wright signed his eight-year, $138 million contract with the Mets in December, Sandy Alderson visited the third baseman in his native Norfolk, Va., to convince him the organization had a sound plan to return to contention.
It is quite apparent now that things are going to take longer than intended, as Jeff Wilpon acknowledged to the Binghamton Press & Sun-Bulletin last week.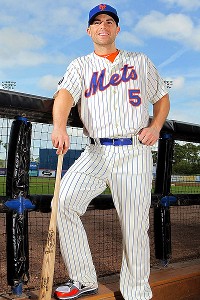 Marc Serota/Getty Images
David Wright re-upped for this?
Said Wilpon: "You can't just say it's not going as fast as we want -- 'We're six months behind, two months behind,' whatever it might be. You've got to let the plan go all the way down the line. If you're going to buy into something, you got to buy into it. You can't change midstream, because if you're constantly changing, there's no chance you're going to succeed. … I think we're definitely happy with the plan and the direction we're going. Is it happening as fast as anybody wants? No."
Wright is loyal to a fault. And probably a bit naïve. So he may very well still believe.
Yet at 30 years old, the organization indisputably is wasting his prime years.
Still, there is a case to be made, if you want to be glass-half-full like Wright appears to be, that the mid-range horizon is OK.
The Mets may be able to form a solid young rotation with Matt Harvey, Zack Wheeler, Jonathon Niese, Noah Syndergaard and Rafael Montero within a couple of years. And with Johan Santana, Jason Bay, Frank Francisco, John Buck and Shaun Marcum among the players coming off the books, the Mets will not be saddled with bad contracts going forward. Only Wright and Jonathon Niese have deals of any length.
Wright has been sold that the minor league system will start spitting out players, so he is living with the now for the promise of better days to come.
It's worth noting that not everyone is as bullish as the Mets are on their future. One NL executive told ESPNNewYork.com after Sunday's mass demotions: "The farm system falls off after the top three. Long term, the Braves and Marlins are better positioned. Maybe even the Phillies."
Wright, for his part, consistently has said he has no regrets.
"Any time you go through the stretches -- I guess a couple of stretches -- that we've been through this year, it's frustrating," Wright said. "It's obviously disappointing. We knew we had our work cut out for us. We knew that it was going to be challenging. But I think that, needless to say, we've underperformed. It's execution. We're not executing on a number of different levels, a number of different areas of the game. It's not one glaring area that you say, 'Hey, we fix this, we get things turned around.' …
"I always want to win. It doesn't matter if it's when I was 21 years old, now 30, or as I get older. You want to win. So it's always frustrating when you lose."